by Gerard Sarnat
In Chicago before I was toddling and my parents weren't poor any more, when Zeyde died, we lived with Bubbe up three flights of stairs. She was always there, staring off in the distance, or on the floor feeding maches herring to fatten me up, or spoiling her boychick on dill pickles which Mom hated. When Bubbe held me tight and wore short sleeves, I got a good look and began to learn my numbers. After she passed and I'd learned to walk, Dad told me what they were called.
Southside survival, though a Gaelic nickname, gift for gab, and auburn sidecurls; skulking home after class, Irish gangs kicked my ass, called me Girlie and Kike.
Years later, traveling with my wife, I told her the solid red brick's like grade school was. It's almost lovely. A bird sings. One grassy railroad track fades toward the horizon. Auschwitz.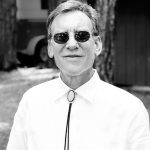 Gerard Sarnat has been nominated for the pending 2022 Science Fiction Poetry Association Dwarf Star Award, won San Francisco Poetry's 2020 Contest, the Poetry in the Arts First Place Award plus the Dorfman Prize, and has been nominated for handfuls of 2021 and previous Pushcarts plus Best of the Net Awards. Gerry is widely published including in 2022 Awakenings Review, 2022 Arts & Cultural Council of Bucks County Celebration, 2022 Rio Grande Valley International Poetry Festival Anthology, HitchLit Review, Lowestoft, Washington Square/NYU Review, The Deronda Review, Jewish Writing Project, Hong Kong Review, Tokyo Poetry Journal, Buddhist Poetry Review, Gargoyle, Main Street Rag, New Delta Review, Arkansas Review, Hamilton-Stone Review, Northampton Review, New Haven Poetry Institute, Texas Review, Vonnegut Journal, Brooklyn Review, San Francisco Magazine, Monterey Poetry Review, The Los Angeles Review, and The New York Times as well as by Slippery Rock, Northwestern, Pomona, Harvard, Stanford, Dartmouth, Penn, Columbia, North Dakota, McMaster, Maine, University of British Columbia and University of Chicago presses. He is a Harvard College and Medical School-trained physician who's built and staffed clinics for the marginalized as well as a Stanford professor and healthcare CEO. Currently he is devoting energy/ resources to deal with climate justice, and serves on Climate Action Now's board. Gerry's been married since 1969 with progeny consisting of four collections (Homeless Chronicles: From Abraham To Burning Man, Disputes, 17s, Melting the Ice King)  plus three kids/ six grandsons — and is looking forward to potential future granddaughters.