by Nicholas Johnson
I'm not cut out for life in the slow lane.
Get back in the car and don't slam the door.
Don't ask me to explain
this epic catalogue of aches and pains.
I don't want to live like that anymore.
I'm not cut out for life in the slow lane.
I'm still that strange Tin Angel sitting in the rain
you loved. Back then you knew what you loved me for.
You were dead sure. I didn't have to explain.
I did things my way and you didn't complain.
We can't forget all who came and went before
but we're not cut out for life in the slow lane.
So when I drive, I drive like I'm insane.
Sit tight. You're still my darling girl next-door.
Why you love speed so much I can't explain.
It could be worse. We could be in a plane
in a nose-dive towards the earth's hard core.
We're not cut out for life in the slow lane.
Please, don't ask me to explain.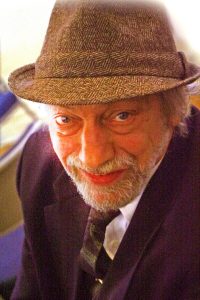 Nicholas Johnson (1944-2019) and Maureen Holm (1951-2005) were the co-founders of BigCityLit.
Maureen Holm was a poet, novelist, editor, literary translator, arts lawyer, and senior essayist and articles editor for Big City Lit. She lived in Manhattan. Holm received her B.A. degree in German Literature & Philosophy, J.D. in 1981, an LL.M in 1991. She served as translator/editor for UNIDO, IIASA, Simmering Graz Pauker A.G., Kunsthistorisches Museum (Vienna). She translated the German Bankruptcy Code for the OECD, and was an interpreter for depositions, hearings, and trials. Her commercial transactional and litigation practice focused on European licensors and manufacturers. She was a founder and co-producer of Lyric Recovery Festival at Carnegie Hall (a biannual of poetry-music).
Nicholas Johnson was the editor of BigCityLit. His chapbook, Degrees of Freedom, is available from Bright Hill Press. We encourage you to read our 20th Anniversary Issue, which is dedicated to Nicholas' memory.