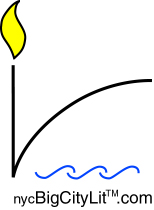 12


Cordoba
Sir Mohammed Iqbal

(Written in 1932 on Spanish soil,
mainly in the Mosque of Cordoba.
[Photos and description below. Ed.])

I

Chain of day and night
Fashioner of events
Basis of life and death
Two tone silken thread
Fiber of attributes
Pitch of prospects
Chain of day and night
Sitting in judgment
Setting a value on us
When we're lacking
Death is your destiny
Death is my destiny
What else is reality
The flow of one age
Neither day nor night
All crafts vanish
Black and white fade
Annihilation the end

II

But in this form
Hues of eternal life
Splendor of man's love
Love is life's base
Death has no claim on love
Love itself the tide
Stemming the torrent
Love is unnamed eras
Love is Gabriel's breath
Love is the Prophet of God
Love is the Word of God
Love is the radiant rose
Love is raw wine
Love the goblet of kings
Love draws life's music
Love is passion for life
Love is fire of life

III

O Mosque of Cordoba
Born of love with no past
Color or stone or brick
Harp or song or speech
Man's passionate creation
A drop of blood turns
Even stone into hearts
The heart's voice is joy
Burning and melody
You illuminate the heart
My song burns the breast
You draw man's heart
To the presence of God
But the passion of love
For God is man's alone
I spark man's passion
Though his sight is finite
His heart is wider than the sky
So what if God has rights
He doesn't earn the pain
I am an Indian infidel
Witness my fervor
In my heart prayers
On lips blessings
Love is my flute
Love is my song
In my every bone
"God is God"

IV

Witness of man's worth
Your glory mirrors his soul
Firm columns soar
Palms in Syrian sands
Sinai's light gleams roof
Gabriel crowns the minaret
A Muslim can never despair
Standing where the Prophets stood
His horizon infinite
Tigris Danube Nile flood his veins
Cup-bearer and horseman
In love a warrior
A sword's shadow his armor
"There is no god but God"

V

You reveal man's secret
Ardor of his days
Dissolution of his nights
His submission
As is God's hand
So is the believer's
Man prospers on deeds
He is clay and fire
Divine within
Free of both worlds
His ambition small
His purpose large
Pure-hearted in war or peace
God's compass revolves
Around man's faith
And the world is illusion
Man of God is reason's horizon
The harvest of love
Fire of the gathering
Heaven's passion

VI

Art lover's Mecca
Faith's grandeur
You made Andalusia holy
Only Muslims mirror your grandeur
O those Arab horsemen
Pledged to truth
Revealed this new secret
People who embrace Faith
Renounce the material
They enlightened the West
Yemen's scent persists
Even today Arabia's music
Lingers in Andalusia's breeze

VII

Alas for centuries
No Calls to Prayer
Echo the minaret
In which valley
At which destination
Is love's caravan inducing frenzy
As all Europe swept away the old order
Repainted the face of the West
So today those torrents stir Muslims
A divine prophecy seals my lips
But let us watch secrets surface
From the ocean's depth
Watch the sky change hue

VIII

A cloud drenched in twilight
The sun scatters rubies
A peasant's daughter sings
Youth sails on heart's boat
On the Guadalquivir
Someone dreams of another age
New order still veiled by fate
Another dawn is approaching
In my mind's eye
If I unveil my thoughts
Fan the flames of my song
Europe couldn't endure
Life without revolution is death
As man's creations are soulless
Without passionate belief
So my song

About the poet: Sir Mohammed Iqbal, (1887-1938), who published nine volumes of poetry, continues to inspire millions in South Asia. He advocated ceaseless endeavor, wrote with equal ease in Persian, Urdu, and English. His magnum opus, Javed Nama (addressed to Javed, Iqbal's son), composed in Persian, develops the recurrent theme in Iqbal's work: the potentiality of man, as partner with God, in shaping the destiny of the universe; the poet soars the spheres with Rumi, meeting many icons of history. The reference to Dante's Divine Comedy is obvious. -- RW
About the translator: Rafiq Kathwari's work appeared most recently in Ravishing Disunities: Real Ghazals in English, Ed.: Agha Shahid Ali (Wesleyan, 2000) and in Big City Lit® (May 2001). He lives in New York City.
About the mosque/cathedral: In the 10th century, warlord Al-Mansur had the bells at the cathedral at Santiago de Compostela melted down to produce lamps for the mosque at Cordoba. When Castillian King Ferdinand III reconquered Cordoba in the 13th, he had the lamps retransported 500 miles and remelted to replace the bells. Eds.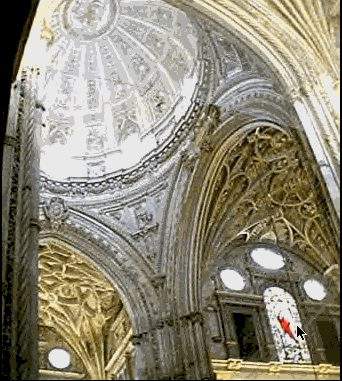 http://www.virtourist.com/europe/cordoba/index.html

Photo: Enric Corbreró.
Here, a typical shot of the mosque's "forest" of nearly 500 columns and arches. Constructed in 780 A.D. (on the site of the Church of St. Vincent, built by the Visigoths), the mosque was the world's largest, second only to Caaba, underscoring Cordoba's importance as the center of Muslim power in Spain. Fully completed, it covered more than 200,000 sq. ft. (23,400 m2).

~ .

When Christians regained power in Cordoba in 1236, they did not destroy the mosque, but rather, converted it--as they did other mosques in Andalusia--opening its flat roof and vaulting it heavenward to create the cathedral. While the mosques at Seville and Granada were eventually demolished and replaced, Cordoba was spared out of respect for the splendor of its architecture. The result is a miracle of (meta)physics whereby two Gods occupy a single space. (Photo: Enric Corbreró)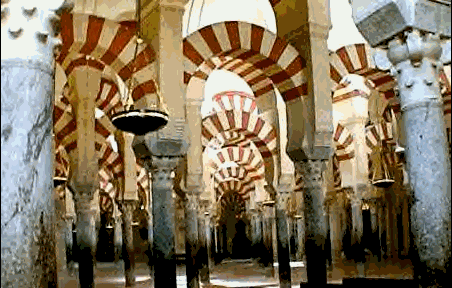 http://www.virtourist.com/europe/cordoba/index.html