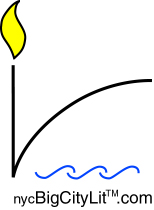 Big City, Little
Jaipur
Think Pink
Brant Lyon
"Well, as Diana Vreeland once said, 'pink is the navy blue of India'."
To her, the comment makes perfect fashion sense. But then, she manages a revival house cinema done up in art deco, so what else could I expect? The pert idioms of late-50's Hollywood, a doyenne of haute couture, and certain dainty starlet who modeled it, are what come off the rack as I'm telling her of how Ram Singh II was expecting a state visit from the Prince of Wales in 1876 and so--in a grand gesture of hospitality (if not good taste)--decreed that the entire city of Jaipur be painted pink.
She's thinking of the movie musical, Funny Face, in which Kay Thompson plays a high-powered executive editor of a fashion magazine loosely patterned after the original Empress Diana and her ready-to-wear ladies-in-waiting at Harper's Bazaar. Well, one scene in particular anyway, in which the actress dramatically unfurls across the floor of the office suite a bolt of pink satin destined to drape every woman in America who stands naked waiting for Miss Prescott to dress her, no--every woman in the world, no--the world itself, including the kitchen sink, as she exhorts, 'THINK PINK!"
How could I tell her then of Ramesh's unglamorous, gap-toothed smile, the stale liquor on his breath, unrosy cheeks on his unfunny, brown face and look of hunger that shone from his eyes, a world apart from Audrey Hepburn's lovelorn gaze lost in a Greenwich Village bookshop or the boulevards of Paree? I'm calling from the East coast; she's on the West. Color coordinates of local time and space clash, twain never meeting, mismatch my new Spring line of thought, which is trending toward blue.
I stand confused (turn left or right?) outside India's--no, all Asia's pre-eminent movie theatre, the "Raj Mandir," whose facade is, I tell her--of course!--a pale shade of pink. Some Bollywood flick has turned out tout Jaipur; women in their after-eight saris, men close-shaven and smelling nice, even the children looking spiffy. Intermission, and as I cross the lobby to leave, the other show starts: to see and be seen posing against the balustrades or seated on banquettes that hug gracefully curved walls like the smart lines of a cocktail dress. He senses my hesitation, but I refuse him the few rupees for a ride back to my hotel in last season's sorry cycle-rickshaw.
He softens me up until I give in to what it would be like to be in his unfashionable shoes peddling down these cold streets, "you know, all pseudo rosy-colored," I relate, "like Audrey Hepburn still extending her pinkie as she's swayed by the that modish philosophy of Empathicalism." One hundred rupees to find out, next day, sightseeing in the Pink City. Spindly piston-legs chug past Tripolia Bazaar, Ram Niwas Garden, the sad zoo near Albert Hall, cool marble cenotaphs of Jaipur's royal family at Gaitor, outside the city gates.
All afternoon he sweats out hope and last night's booze. We take high tea in paper cups standing on the curb below nine hundred pink honeycombed windows as the sun sashays down the runway and makes its turn behind the Palace of the Winds. I pay him more than twice our bargained fare, and for a moment Ramesh swears he sees the chic royal ladies in purdah from Pink City's tonier days discreetly blow him kisses from behind their rouged screens.