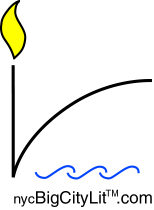 Series Reviews

The First Annual Albany Wordfest
by Dan Wilcox
It was a strange time of day to see a gathering of poets: the sun overhead, the sound of birds in the trees, the only traffic sound the brief crunch of gravel as the latest arrival pulled into the parking lot. These same poets usually gathered after dark, in the city, waiting, if not for the sun to set, then at least for the shadows of the buildings to darken the streets. And there weren't any streets, just one asphalt patch leading from the parking lot to a pavilion and the broad lawn beyond, to the volley ball court, softball field and horseshoe pits. But these playing fields were empty, except for the swings later, and the occasional poet finding some silence in distance to write a poem or to sleep off a hangover.
This was the AlbanyWordFest, held on Saturday, September 8, in Thacher Park, a State park in the Helderberg Mountains, south and west of Albany, NY. Organized by R.M. Engelhardt, the host of the "School of Night" open mic held every last Tuesday at Valentine's in Albany, the festival brought together over 25 poets from the region for eight hours of readings, music, food, drink and generalized poetic shenanigans. The event was free, supported by funds from the Hudson Valley Writers Guild.
Engelhardt had thoughtfully organized his program into various groups of poets, thereby ensuring substantial audiences throughout the day. But first, as he does for the Third Thursday open mic each month, Dan Wilcox invoked the Muse. Actually, muses: poems by Walt Whitman, Barbara Holland and others. The first group to read was The Every Other Thursday night poets, seven poets from rural Voorheesville. Following the Voorheesville poets, there were poets from Ulster County and the Woodstock area, the Albany SUNY campus, the Electric City Poets from Schenectady had the largest contingent with eight poets, and, of course, the Albany poets themselves. Jason Martin of the Department of Experimental Studies provided a musical interlude, including doing covers of songs he may have never heard before.
And, of course, the evening ended with an open mic, cut short as the sun went down and the Ranger chased the poets back to the city where they belong--at least until next year.
Website: www.albanywordfest.com
(Dan Wilcox is an Albany-based poet and photographer. He appeared most recently on the magazine with poetry in the "Dusk" section of the Vietnam War issue (June 2001).)