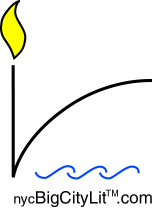 Series on Series

La Plume Reading Series
by Series Curator, Marlene Vidibor

No man is an Iland, intire of it selfe;
every man is a peece of the Continent,
a part of the maine, if a Clod be washed away
by the Sea, Europe is the lesse,
as well as if a Promontorie,
as well as if the Mannor of thy friends
or of thine owne were;
any mans death diminishes me,
because I am involved in Mankinde;
And therefore never send to know
For whom the bell tolls;
It tolls for thee.
--John Donne


La Plume is dedicated to the philosophy expressed in Donne's famous poem. Conceived while on a reading tour in London and Paris last year, I want this series to bring to a poetry audience the music of all languages, as well as a number of writers who compose in languages other than English.

Since childhood, my life has been infused with the love of language, written and spoken, and with its music as companion to the music of instruments and voice. My desire to showcase the multi-cultural tradition within poetry with a reading series dedicated to these purposes grew over time and was reinforced by my participation this past Spring, as former host of the Phoenix Reading Series at Center for Book Arts, in the United Nations/Rattapallax Dialogue Among Civilizations events.

La Plume succeeds Phoenix Reading Series at Center for Book Arts, which expects to move to a West Village site. CBA is a nexus for the art of the book, including the accompanying arts of collage and calligraphy, all of which I have practiced as an CBA artist member for several years. Those skills hold a fascination for many other poets including myself, and the Center provides the perfect setting for such a series endeavor.

CBA is a studio space for working book artists, and La Plume readings take place among printing presses, book presses and display cases, filled with books and boxes made by talented and skilled artists, evidence of the current and prolific practice of these arts by members of CBA. Poets come here to print their poetry and make handmade books. Artists working at the space sometimes take time out to attend and join in readings. Mingling of book artists and poets allows each to introduce their art to the other.

CBA also supports other events devoted to poetry and writing, primary among them an annual chapbook contest whereby a manuscript chosen for a book is designed and printed by a CBA artist and given a special reading at the Center. This activity is funded by a special grant from the New York State Council on the Arts. La Plume is grateful to CBA for hosting our series and to the director, Rory Golden, and his staff.

Every La Plume feature is preceded by an open reading at which readers are welcomed to read in English or any language of their choice, as long as a translation or explanation of the foreign language poetry is also provided. La Plume particularly invites the reading of cross-cultural poetry and writers and artists are encouraged to bring copies of their books or art to offer for sale at each session.

The La Plume season opener in September was a warm, well-attended reading by Arlette Lurie, who read Cesar Vallejo in Spanish, her own French translations, as well as English translations by Robert Bly. She also read poetry by her father Henri Lurie, a well-known Parisian philosopher and poet.

The October session featured Robert Minhinnick and Michael Graves. The editor of Poetry Wales, Minhinnick read in Welsh from the work of Gwynn and in his own English translations [Blood Axe. Eds.], and spoke about the Welsh language and Welsh poetry. Graves, the originator and current host of the Phoenix series, read several of his poems published by the James Joyce Quarterly, and a variety of other pieces. Open readers contributed a number of well-conceived poems on the September 11th WTC disaster. La Plume received grants for both features from Poets & Writers which the series matched with contributions from the audience.

On November 16, Ulf Goebel will be reading from the great German poets, with a discussion of the poetry in English. A teacher at NYC Technical College, Goebel will also read from his own poetry in German and English. On December 7, the features will be Daniela Gioseffi, reading/singing in Italian and English, and Maureen Holm, reading/singing in a variety of languages including her own invention, 'Suvicnai.' We will also be receiving Poets & Writers grants for these features. As always, open readers are invited to precede the features. For Spring, we have arranged readings in a variety of Slavic languages and more European languages. Exact dates for these will be announced. We look forward to readings in a great many more languages from the Near East, Far East, and Africa, and are constantly seeking new readers who bring not only new languages but new cultural experiences to our series. Poets who have written about travels or cultures outside (and within) the United States are encouraged to contact us.

The La Plume Reading Series maintains a website featuring poems by writers who have read at both Phoenix and La Plume, some of which, such the poems of Pud Houston and Ellen Peckhamwhich are accompanied by artwork. A full page is devoted to poems related to the September 11th WTC attack, another to photographs from past series readings. As the website grows, it will include other poets who have submitted their poetry and additional poetry in languages other than English. The website also features links to a variety of poetry websites and other literary sites that feature writings of past readers and others friends of La Plume. http://homepages.about.com/mvidibor

Venue: Center for Book Arts, 28 W. 27th St., 3rd Floor (B'way & 6th Ave), Chelsea, NYC. If the door is locked, ring bell #7. Unless otherwise noted, all events take place on designated Fridays starting promptly at 7 p.m. with the open reading, and run until 9. The suggested donation is $5. Additional information may be obtained by contacting me at mvidibor@home.com, or at 917-903-1177.