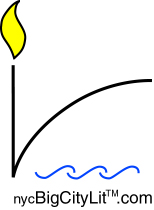 May 2002 [Home]

Reviews
by Tim Scannell

Cypress Knees and Palms
by Be LaRoe


(Ten Pell, 303 Park Avenue South, #500
NYC 10010; 85pp.; $12.00; 2001).

A childhood idyll set in an orange grove in central Florida. In fifteen poems and fifteen pieces of short prose, the author dons her own 3- to 8-year-old persona and its wide-eyed tone. A warm book, in the sense that The Yearling (northern Florida), and its character Jody, were nice to experience, to still recall.

There were, of course, gator, snake and beloved pet. "Daddy was poking around in the grasses with the oar until he fished out this baby gator…it started crying, high and shrieking… 'rererere'…its little gut just pumping like a bellows." Mama gator comes, jostles the boat, bites the oar—and the baby gator gets put back! In another episode, the two approach an island: slow water, oppressive heat—airless amongst the overhanging trees: "There were thousands…writhing around the trunks and branches, hanging down and falling, water moccasins and cottonmouths, open mouths oozing venomous-looking drool, dropping into the water zigzagging all around us." They do not get out of the boat, [Daddy] "…kinda sadly nodded and took us on back out of there." A beloved German Shepherd: "I argued with him the first time he stopped and stood in front of me…froze when I saw the rattler…Shep kept leaning against my knees until I started backing up real slow. I never questioned him again." Two years later— the girl old enough for school now—Shep was bitten by a rattler on the front steps, but the vet could not save him: "I stood at the basement door, my forehead pressed into the sagging screen and cried. I didn't even get to say goodbye."

Many other fine vignettes/poems: riding the tractor, grandmother visiting, city cousins who had everything (TV, stereo, washer/dryer); and finally, in 1962, a freeze that destroyed the entire grove — "80 acres of dead orange trees" — after which, "Dad went back to long haul trucking…we didn't see him for three to six months at a time."

In a final 5-page poem, Be LaRoe (living in Manhattan) sheds the persona/tone of childhood, sums up the ensuing 40 years in "Tobacco Country Retirement " (she visits her father):

arm in arm
pale city skin against redneck tan
it's an old routine
only the melanoma scars are new
he pulls up his pants leg / to compare our blue-white legs
his are hairless now /
no bigger round than my forearm…

he gives me his Zippo lighter…

[parents in a] luxury condo on St. Andrew's Bay….

The orange grove is gone, and "Granddaddy's & Grandmommy's" 1930's house is abandoned (one of a dozen b/w photos illustrating the book show it drowning in Florida greenery — in 2000); yet Be LaRoe's childhood shines through, not sentimentally, but in a joyous celebration of what is eternally True. And there is a color photo of a pink flamingo on the back cover: irresistible!