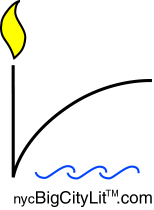 Essays


A Potamic Tale
Gretl Claggett
In late May, 1973, the Mighty Mississippi, Old Man River himself, overflowed Hannibal, MO—the mosquito-infested waters rising a steep incline past Front, Main, Broadway, on up toward 3rd Street.

A Little Girl
by Kuniko Katz
I later learned that on August 10, 1945, the day we lost our house, two hundred ten B29's had flown over Kumamoto, our city, and that more than five hundred townspeople had been killed.

The Bardo Realm
Diane Travers
Shortly before New Year's, I had an unexpected dinner with my older brother and his new wife. We met near their loft in Tribeca, at a Vietnamese restaurant that had just opened two blocks from Ground Zero.

Starting With An Hour a Day
Alexandra Lehman
The Old Dutch Church of Sleepy Hollow was built in 1697 and sometimes on August mornings, when I cannot concentrate on the sermon, I stare out of the open, warped glass windows into the burying ground with weather-beaten colonial headstones and listen to crickets.

'Raging Rivers of Narrative Flow':
A Lunch with Vijay Seshadri
Theresa Cahn-Tober
The last time I applied to graduate school, it was 1958 and I was eight months pregnant. Preparing for a meeting with the head of Psychology, I surmised that my happy condition might strike her as a handicap.