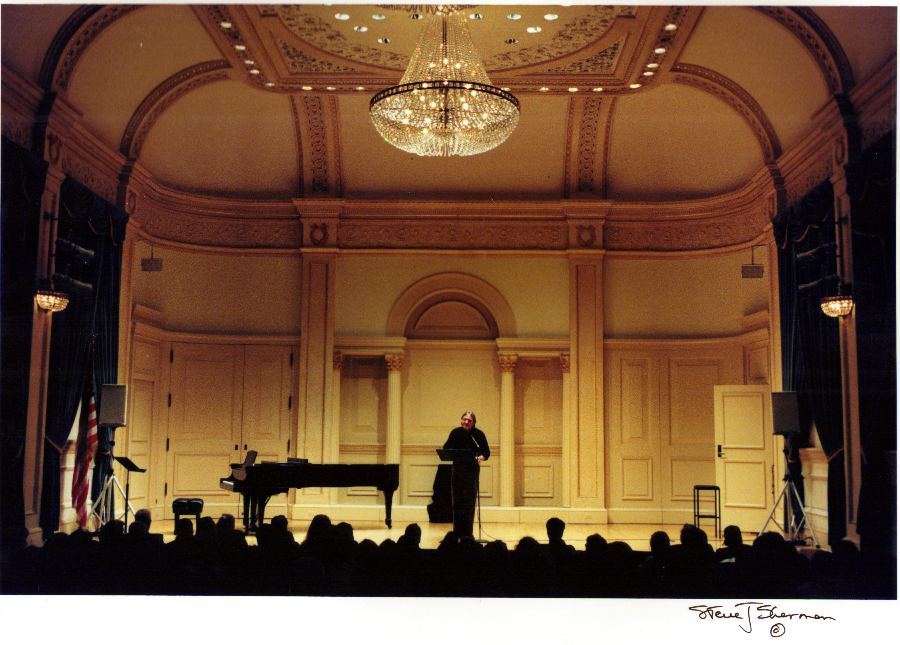 Let all buckets fill, all loss be light. -- James Ragan
Ragan performs on the Weill stage at Carnegie Hall
for Lyric Recovery Festival™ , April 29, 2000.
Musically-Infused Poetry in an Age of Prose
What is 'lyric'?
The Multiple Voices of the Lyric Color Wheel
The Carnegie Program
The Post-Performance at Carnegie Bar & Books
Acknowledgments
The Book
The Tour: Photos from legendary Gotham Book Mart
LyR's Return to Carnegie
The LyR Carnegie Poems
Musically Infused Poetry in an Age of Prose
Not Cause -- Cause for Celebration
(Lyric Recovery(tm) is a p h i l o p h o n e m a(tm) affiliate)
After twelve sessions in New York, Paris and Prague --with more envisaged for Montreal, Vienna, Barcelona and elsewhere -- Lyric Recovery(tm) is recognized as a multilingual force of innovation and a preserve of excellence. In this age of prose, the event originated to:
-- reinfuse poetry with the music indispensable to it, while encouraging reach, craft, dimension and intensity
-- free the lyric voice from its academic definition as an 'I' reference, a single speaker relating his experience of the world
-- extend the lyric's potential far beyond its ostensible material confines as the poetic province of love and death
-- demonstrate the lyric's multilingual, multicultural reach as the poem's heartbeat heard from and all over the world
-- produce, present, engender and reward lyric excellence
Lyric recovery: Not cause -- cause for celebration.




Typically defined as "a single speaker relating his experience of the world," the term evokes for many Wordsworthian pastorals, Byron's Childe Harold or Frost's elemental Yankee loner. Yet John Berryman, the master of "shipwrecked syntax," navigated the lyric's powerful currents as the "voice of the other." In James Ragan's Hunger Wall, Galway Kinnell's Book of Nightmares, it is the spillway of brute force, the collective undertow of horror.
Through the intimate bonding of sound and meaning, the lyric poem draws the deepest emotional, the keenest sensual response, its enunciated breath the music that "joins the liberties of sleep with the intensity of extreme wakefulness," (Valéry) the rhythm and sonority that "respond to man's immortal need for symmetry and surprise." (Baudelaire)
Lyric is mesmerizing in any language, however rudimentary one's linguistic, thus, mental apprehension. Once emotionally allied with the piece, the listener imputes his own meaning, as here to a stanza in Suvicnai ("Shoo-veets-NYE"):
Voc mani sloka, sloka tedü,
nu sonic lennia kim debai.
Edevi kum battoy sis bajani,
nev husko fai ranne dari mijü.
O nev nev ranne faisi dari mijai.
The lyric poem's first stirrings are rarely verbal; it arrives by emotional sensation, by the internal color, texture, smell of a mood, by an image, pitch, cadence, hum, by the savor of a long vowel. "The poet is occupied with the frontiers of consciousness where words fail, but meanings still exist." (Eliot) This is the zone we inhabit when we enter into dialogue with the poem to transliterate our non-verbal exchange onto the page. Poet accounts solely to poem as the final arbiter of its completion; poem scrutinizes and challenges poet.
Rilke's Apollo is headless, limbless, yet every contour of muscle and bone radiates a gaze and a smile.
Denn da ist keine Stelle,
die dich nicht sieht.
Du mußt dein Leben ändern.
For there is no part of him
that does not see you.
You must change your life.
Only by surrender to the dialogue can we create anything true, anything of lasting value. By recovering the lyric, we acknowledge needs and reaffirm values that alter, enlarge, transcend ourselves.
In eleven sessions in New York, Paris and Prague, Lyric Recovery™ has sought to extend the lyric to full potential, presenting, engendering and visibly rewarding work marked by reach, craft, content and musicality. The 12th culminates with this festival session at Carnegie Hall.
Huddled since mid-century as "global village" around a dominant source of imagery, sound, even meaning, we must make uncommon use of language to ferry us beyond its perimeter to the essential, shared harmonics.
(Lyric Recovery™ is a p h i l o p h o n e m a ™ presentation.)


The Multiple Voices of the Lyric Color Wheel
Eliot suggested that the first voice of poetry is that of the poet talking to himself, the second, his voice addressing an audience, the third, his attempt to invent multiple voices -- none his own -- which address one another. Anticipating the argument tat a love poem is devoted to a private audience of one, he contents that good love poetry is always meant to be overheard; his flat assertion: when a lover wants privacy, he writes prose. He orders these verse modes into three valences: non-dramatic, quasi-dramatic and dramatic. While they forma tidy triangle, the true shape may be hexagonal.
Valéry's single voice in La Jeune Parque is intense theatre. Moreover, most agree that the tormented girl ("And what shriveled leaf persists in quivering between you, islands of my naked breast?") is not a voice assumed or persona invented by the author for effect, but rather, his own affect breaking a fifteen-year silence. Of course, the theatre has forms of self-address or reverie ("Soft, what light through yonder window breaks?") overheard as soliloquy or solo aria.
Eliot likely would have allowed room for multiple voices to occupy the first and second verse modes as well, each speaking to and for itself, past or unperceived by the other. Conversely, multiple voices can speak as one: Eliot's chorus in The Rock. Adding these counterpart valences to his primary ones produces a six-sided color wheel of voices, all of them potentially lyric.
While even the general reader acknowledges the reorientation of novelistic voice from Jamesian talking heads to Woolfe's interior monologue, writers still falsely consign the lyric to balmy Wordsworthian pastorals or Frost's elemental Yankee loner, thus, the classic definition of a single speaker relating his experience of the world.
Collected since mid-century around a dominant source of imagery, we must make uncommon use of language to reach beyond it to the essential shared harmonics -- while those who insist on privacy write prose.


Features James Ragan and Galway Kinnell were joined by the 10 finalists who read in the final-round selection for judge Dana Gioia, and by 20 other performers appearing in a program of more than 50 poems and songs, which included new settings of work by Yeats, Valéry, Rilke, Apollinaire (and Ragan), along with original pieces, in nearly a dozen languages, real and invented. Singers included all vocal categories; music instruments included piano, cello, violin, flute and alto flute. Full details, along with bios of the features, judge Dana Gioia, and the performers, appear on the event web site: <www.geocities.com/lyricrecovery> The 30-page large-format program is available for purchase ($10) by writing to p h i l o p h o n e m a(tm) at Box 1141, Cathedral Station, NY 10025.


The Post-Performance at Carnegie Bar & Books
About 100 guests joined the post-performance event at Carnegie Bar & Books just behind the hall on West 56th Street where they voted for their favorite poem, bought new release books by Kinnell and Ragan, and heard violin-playing marionettes and poetry from the semifinalists and others, more songs, and informal addresses by officials from The Yeats Society, The Czech Center, The Dome and Dana Gioia.
In addition to the onstage presentations of a Waterford pitcher, Ceska crystal vase, and hand-made Italian music box to Kinnell, Ragan, and Gioia, other presentations were made afterwards: a first-edition Sonnets to Orpheus (Rilke) restored by Jennifer Jestin went to Galway Kinnell, music boxes to the winners of the high school category, and a special citation to composer Paul Winston from The Yeats Society.
(Photos pending.)


With thanks to the artistry of:
Paul Winston (instrumental obbliggati and piano), Gilbert High and Dariusz Ocetek (baritones), Patrick Dillery and Margaret Lancaster (flutes), Gene Hahn (violin), Ed Klinger (percussion), Richard Johnson (trumpet), Roxanne Beck and Phoebe Yadon (sopranos), Stacey Helle (mezzo), Michael Boyce (tenor), Robert Scott, Adam Merton Cooper, Margo Berdeshevsky (poetry), Maureen Holm (poetry/music/translation), Viktor Tichy (translation), Patrick Haon (translation/essay), Vit Horejs (Czech recitation and violin-playing marionette), Jennifer Jestin (restoration of first-edition Sonnets to Orpheus, Insel Verlag, Leipzig, 1923), Kathleen Bishop (Shakespeare recitation and stage direction), Sharon Chu and Alex Kveton (sculpture);
the poetry analyses of evaluators:
Dan Lewis, Larissa Shmailo, Frank Portella, Victor Asaro, Larry Mallory, Margo Berdeshevsky, Maureen Holm;
the on-site assistance of:
Patricia Franz, Erica Bunin, Pati Sands, Leslie Robinson;
the advertising or other sponsorship of:
The Academy of American Poets, Argosy Rare Books, Art Times, Bauman Rare Books, Carnegie Bar & Books, Ceska Crystal, Coda Music Technology, The Czech Center, The Czechoslovak-American Marionette Theatre, Ellen Bryant Voigt, La Fête de la Poésie (Québec), Gotham Book Mart & Gallery, Graywolf Press, Gryphon Books, Tom Hair, HarperCollins, Herodias, Houghton Mifflin, The Hudson Valley Writers Guild, Insel Verlag, International Woodwinds, The Irish Arts Center, The Juilliard Bookstore, Kate's Paperie, Labyrinth Books, The Language Works, Liberty Partnership Program, Linear Arts, The Lyric, Madison Avenue Bookshop, New York Dance andArts Innovations, Patelson's, The NYS Dept of Ed, Paris/Atlantic, Paris Free Voice, The Poetry Calendar, poetrycentral.com, Poets & Writers, Poets House, Rattapallax Magazine, Rattle Magazine, Rhino Records, Ripples: The Art of Water, Riverside Copy, Robin's Books (Philadelphia), Romancing Provence, The Saratoga Arts Council, The Schedule, The Honorable Senator Charles Schumer, Shaw Realty, Steve Sherman Photo Studios, Sitegeist, Strand Books, Troubadour Magazine, The University of Georgia Press, Waterford-Wedgewood, The West Chester University Poetry Conference on Form and Narrative, WBAI, WNYC, The Yeats Society of New York;
the extraordinary interventions of:
Ram Devineni;
and with a year-long kiss to an unnamed hero.


The Book:
Water to Wine to Waterford®
The contestant poems were submitted by the producers and many were published individually in literary journals including Rattapallax, Paris/Atlantic, Rattle and The Lyric.
Headwaters Press, NY is publisher of the award-winning collection from Carnegie, which includes essays, poetry from the features and from The Carnegie 22, with photographs by Elena Kondracki, Ann Sgarlata and Margo Berdeshevsky. The 48-page book has been released in two editions, a hand-sewn edition on fine paper, bound in a Florentine print ($22), and in a printed, saddle-stapled edition ($9). Write to Water to Wine to Waterford®, Box 1141, Cathedral Station, New York 10025.


The Tour:
Photos from Legendary Gotham Book Mart
Finalist and semifinalist winners were announced and sponsors acknowledged in a half-page ad which appeared in the September/October 2000 issue of Poets & Writers. Throughout the Summer, individual poets were booked by the producers as individual features in various venues in the metropolitan area.
Bookings were arranged for New York and New Jersey area winners to appear -- up to a dozen at a time -- in various other venues in Manhattan and upstate, including Baggot Inn, Cloister Café, Gotham Book Mart & Gallery, Cornelia Street Café, etc., sometimes together with the LyR Carnegie musicians and with speaker/editor George Dickerson. Most were sponsored by Poets & Writers with a grant from the New York State Council on the Arts.
The photos which appear here were taken on October 25, 2000 during the reading at Gotham, New York's oldest and most prestigious independent book store. Bertha Rogers (Beowulf), Michael T. Young (Transcriptions of Daylight) and George Dickerson (Selected Poems) who also participated are pictured, along with Nicholas Johnson, Reese Thompson, Susan Scutti, Diana Manister, Mark Nickels, Rob Wright, Stella Padnos, Jay Chollick, and Evan Eisman.


Fierce demand for performance dates and Carnegie's own greatly expanded use of Weill Recital Hall prevented LyR's return to Carnegie this Spring. However, the Lyric Recovery Festival(tm) 2002 will be widely publicized shortly after signing and a call for submissions to the international competition will follow in this publication and elsewhere in due course.
The Music of Poetry
Galway Kinnell
Zivanska
James Ragan
Unshelved
Maureen Holm
Elegy for a Bird House
Diana Manister, Staten Island
Firecraft
Special Mention
Mark Nickels, Brooklyn
Fitzgerald's Trees
Tobias Deehan, Manhattan
Frog Queen in Fall
Third Prize
Joanna Smith Rakoff, Manhattan
Ixion at Mud
Second Prize
Evan Eisman, NJ
St. Brendan at Crosshaven
Christopher Neenan, Rome, Italy
Stumbling Running of the Pines
Tatamkhulu Afrika, Cape Town, South Africa
Untitled (My lunchbox holds bones . . . )
Reese Thompson, Zaragosa, Spain
The Work of Hardening
Robin Lim, Baguio City, Philippines
When Gravity Fails
First Prize
Nicholas Johnson, Brooklyn
Semifinalists
Accident at Windsor Station
Outstanding Semifinalist Poem: Content
Naomi Guttman, Montreal (and Hamilton, NY)
Cantus for the Horses
Outstanding Semifinalist Poem: Reach
Rob Wright, Philadelphia
Encounter at the Butterfly Museum
Madeline Artenberg, Manhattan
Eternal Vigilance
Susan Scutti, Manhattan
Hansel, Gretel and the Black Bird
Reese Thompson, Zaragosa, Spain
Haunts
Outstanding Semifinalist Poem: Craft
Mark Nickels, Brooklyn
Inside You
Viktor Tichy, Fairfield, IA
Like an Old Dog
Deborah Reich, Queens
Love from a Blue Window in the City
Mia Albright, Manhattan
Old Babyface
Outstanding Semifinalist Poem: Musicality
Jay Chollick, Queens
Streaming
Stella Padnos, Brooklyn
The Weeping of the Penny Whistle
Peter Horn, Cape Town, South Africa
The Music of Poetry
Galway Kinnell
And now -- after putting forward a "unified theory":
that the music resulting from any of the methods
of organizing English into rhythmic surges
can sound like the music resulting from any other,
being the music not of a method but of the language;
and after proposing that free verse is a variant
of formal verse, using unpredictably the acoustic
repetitions which formal verse employs regularly;
and after playing recordings of the gopher frog's
long line of glottal stops, sounding like rumblings
in an empty stomach, and the notes the hermit thrush
pipes one after another, then twangles together,
and the humpback whale's gasp-cries as it passes
out of the range of human perception of ecstasy,
and the wolf's howls, one, and then several,
and then all the pack joining in a polyphony
to whatever in the sunlit midnight sky
remains keeper of the axle the earth and
its clasped lovers turn upon and cry to;
and after playing recordings of an angakoq
chanting in Inuktitut of his trance-life as a nanuk,
a songman of Arnhem Land, Rahmani of Iran,
Neruda of Chile, Yeats, Thomas, Rukeyser,
to let the audience hear that our poems
are of the same order as those of the other animals
and are composed, like theirs, when we find ourselves
synchronized with the rhythms of the earth,
no matter where, in the city of Brno, which cried
its vowel deep into the night to get it back,
or at Ma'alaea on Maui in Hawaii, still plumping
itself on the actual matter of pleasure there,
or here in St. Paul, Minnesota, where I lean
at a podium trying to draw my talk to a close,
or on Bleecker Street a time zone away in New York,
where only minutes ago my beloved may have
put down her book and drawn up her eiderdown
around herself and turned out the light --
now, causing me to garble a few words
and tangle my syntax, I imagine I can hear
her say my name into the slow waves
of the night and, faintly, being alone, sing.
(Imperfect Thirst, Houghton Mifflin, 1994)
*
After the doors were shut and the windows sealed
to let the ember's soft foot lie, my father
slapped the crystal clear of wine and rising
tall as Janosik, full of heart, whispered down,
"Grass is burning. Stags are in the wood."
And out into the green night and salt arbors
of the brook we followed the king of bandits
upslope through the branched spires and thickets
into woods where only mold and roses thorned.
Under a moon as low as a mushroom scone,
we soured coals in sprigs and ginger grass
and hidden as with any intention the mind deceives to rob,
the sparks saw into the burning earth
what flint of fire could set the night to gasp.
A crackling sound began to grow into the roaring
hooves of deer and longer still to racing herds
as bacon fat dripped longingly into laps of bread,
and onions skewered and spat above the fire spears.
In my father's fist the long wind reed became a switch
that like the last finger on a hand hooked
potatoes by the eye. Wine took the aching down
into the throat and further in, the heart of something
shook that only nature recognized as sound.
The grass had burned to snapping darkness and to the last
sobbing tongue, my father pointed down to silence,
"The stags are gone. Boars have killed their young."
And no one moved. The king of bandits sheathed
his spearhead into ground. None had known
that hidden in the wet rock of the August clearing
a boar, alone and sorry for its breed, had moaned and wept.
(The Hunger Wall, Grove 1995)
*
Unshelved (at Shakespeare & Co., Paris)
Maureen Holm
Black paws, blue china saucer,
deep velvet red relief,
Proust at my bedside with tea and madeleines,
Rimbaud on the roof . . . prêt à sauter tomber voler?
braiding the tail plumes of swallows.
What makes for kind, what makes for cruel?
Tears at the ready, a gesture, a tone,
and I dissolve for the taking,
with a heel of poîlane, a guzzle of grape,
will oozing down my vagabond thigh.
Si je sautais, cette feuille crispée dans la main,
Notre Dame, m'enlèverait-elle, André,
lourde, étourdie, de la Seine?
Me voilà,
jeune parque d'un certain âge,
poursuivie
par le serpent qui m'emmène.
What makes for 'now,' what makes for 'ever'?
Turn out my pockets for smug passersby,
cigarette butts, frizzled scrags of hair,
worry-fingered rosary of my whitening distress,
and suffer the image effaced of its rhyme,
a hollowed-out vowel, nub of prophetic gloss.
Enlèverait-elle la page au moins,
qui sait nager, sinon l'écrivain?
When is time? When is time?
What 'later' if purpled with coward's regret,
what 'jumped-the-gun' suicide, false starts of hope,
on the umpteenth attempt between 20 and 40
to convince her to let me stay?
Inter-quick-changeable vision of the young,
which-one-who-him-why his
tongue licks ooze from thigh,
but the where still always here,
that tree tunnel bridge river boat,
until the hideous filigreed summons
of window and 'Should I?' sky.
Never woman by woman so ardently sued for,
nor even man by his wooing more pitiful than I:
unrequitedly ruined -- by a city.
(Prior publ.: Paris/Atlantic, Spring 2000)
*
Elegy for a Bird House
Diana Manister
I loved a man
who built a bird house on Staten Island,
a radiance that now has disappeared.
The hands of the man were a worker's hands,
containing in their muscles and nerves
memories of wires twisted,
boards sanded,
pipes turned
and motors taken apart.
O house-maker, seed-giver,
builder of bright particular things,
did the shadow fall here as well
on Staten Island?
Did our day end like an old man dying
in a rented room?
And will the bird house go under the sea,
and the man go under the hill?
Will the heart break and the heart fail
and the house go under the sea?
And will the light that was given be taken again,
and the heart go under the hill?
What do we do when there is no consolation?
In darkness, how are we to see?
My father too was a maker,
builder of bird houses, doll houses,
transmission-fixer,
valve-adjuster,
a radiance that now has disappeared.
What can we do when there is no consolation?
When the sun falls into the landscape,
how are we to see?
All the madness and innocence of my love
could not save him;
wrenches lie on his bench;
nails of different sizes
are organized in bottles in a row.
All the madness and innocence of my love
count for nothing.
When the shadow falls,
the father will go under the hill
and the man who is like the father will be taken in darkness,
and the light that was given will be taken again,
and the house, and the madness, and the love,
and bright particular things,
will all go under the sea.
*
Firecraft
July 4th, 1999, New York City
(Special Mention)
Mark Nickels
How rich you are, an urchin said to Wilde,
advancing under Covent Garden with
a bank of orange lilies, and as the 20th ends,
in the city indisputably its capital,
I gasp the same. Fireworks. Before the finish,
they sent a drift of willows up, massive,
coppery, lazy in their fall, the towers
all but hidden by these ember trees.
The least of circuses are consequential.
If less so than bread, one may feed
on the polity's undirectional love.
On the other roof, camcorder monitors
are cool and blue, the operators slender
in their shorts, well cared for, with all
their vaccinations, their eyes the color
that they chose. The bursts have panicked
car alarms, which wobble like an alien invasion
in a Fifties movie. And interesting
the continuities: the same saltpeter smell
as when the headlines shouted French Guns
Open Up! - those flashes could be coming
from the Somme. The braying tugs
could well be hooting on the Thames,
VE Day, or like an oboe in an overture, Rameau.
Yesterday, we staggered in a heat wave,
Virgil, June and I, to a museum, where
a 3D video of Nippon goddesses unfolded.
Virgil vaguely watched, an infant, his eyes
a lens unfocused, while I stood behind
and tried to fit the 3D glasses to his head.
I must have wanted to amaze, transfix him,
ensure that there was nothing he would miss.
And then I knew I 'd forego none of this:
the whole as futuristic as I could have
wished for, nine or ten, and guessing
what the streaming future would be like.
My computer, with a banner, just
suggested, Looks like you're trying
to write a letter? Can I help?
But I'm not, or am I, Virgil?
You are six months old now, frowning
and Churchillian. When you read this
I may be dead, or frozen in the moon.
It is 1999, and I always
write in light now. Our wars are surgical,
though as random and ham-handed
as they always were. The circuses are instant
and marvelous to point of dread, but tonight
the same as when the Chinese Emperor
had charges packed with gold, so that from barges,
his minister of firecraft could incise
these willows on the inky sky.
I'm not an urchin, nor will you be. No one
is overawed forever. See how in planes,
the passengers will draw the shade, while outside,
inside sleeves of cloud, every expectation
they ever held of heaven. Sublimity
is never, maybe, what this mammal wanted.
Even if it lost itself in images forever,
legs folded on the bank, there would still be pain,
the crossed sciatic spears in back and legs
from shaking out the rice all day,
or from shaking out these letters, still
the only food that keeps us ravening for life.
*
Fitzgerald's Trees
Tobias Deehan
Hold moment of compelled emanation
meant to be pulling out to sea
refrain tide
refrain tide
only if friendship can vision
vanished trees of New York
and feel a stronger current along the sound
pushing against commission
none in time with a beating
of a building entering you
make color at moments
rain my hair down
rain my hair down
again hint to hills and harvest
where memoir
memoir tulips hold red metal fish
gave reason to pull the line
More time in a drop
other than
the blackberry harvest
shortening distance to the bean.
Only blackberries early
white scars shade the body
life of memory and future wishes.
Ever to know you or give blood or marrow
to the one who matches beneath the skin
or hair
or trees.
*
Frog Queen in Fall
(Third Prize)
Joanna Smith Rakoff
Already, I'm sick of apples and trying to match
myself to myself, match sweaters to my graying hair.
Where there were leaves there are leaves of a different color
and they estrange the wind from itself, from its earlier
direction. It is drier, the wind. I hate it like
a sister, burning and creeping my hair, making it
all electric. There was a time when I wanted to keep
it with myself and the flowering trees -- when it seemed
too private -- or embarrassing, that I was not chosen
but had to choose something for myself. I'm not sure
you understand risk -- in your cities -- risk or what happens
afterward, when you win out, the big pay-off. The kingdoms
were like counties then -- like suburbs -- close together,
kings upon kings -- my father no more or less than any
of them because, you see, the queens were the real
headache, brought from what was then called far away,
collapsing on stairways, ordering textiles in enemy colors,
asking the poets to dinner. It is true that everyone
was more beautiful then and it's not just childhood makes
me think so. I am progeny of shade. I see what is -- laudanum
queens, what makes change -- and safety was not yet
a word; Do you see why we learned to conjure? I liked it.
The possibility of being self and self, of the wind's
selection -- nothing matters to youth. You do not
understand risk or regret. You imagine yourself the ghost
of your mother's final suicide; you imagine yourself
the incision -- or the inner life of the amphibian. It's not
as clinical as it sounds. That we are our secrets. Allow
me some inaccuracies, some memory -- or do you know the word
"aphasia?" I tell you -- I liked it. The streets in the town were
disgusting,
beyond that -- filth, disease -- and, of course, it reached
us out here, beyond the tips of the trees. We are all wanting to be
tragedians, to set forth our little Cordelias, let
down our rapturous Pre-Raphaelite hair, to die and be
a lily or be the same but more beautiful. I am not death
or some kind of costume, or even a stuffed effigy waiting to be
burned into something. I heard the conversations of the
queens --
the asking of permission, asking others to listen,
ten million poems of courtly love and I think I have written
them all. As metal holds to metal, there are no more sorrys
in my exhaustion. Sometimes I think I am the end of the
pastoral -- all those sparrows and squirrels and the men who make
them,
their endless ancestry. Do you see now?
Do you see risk, as it is -- the visceral -- frogs
are not like drawings of frogs. You may have my story. The wind
is my elective -- look how it swims me to Greece -- shows
you the truth. Reader, this is fame -- the parts that have
kicked away, the pictures in drawers or boxes belonging
to people in faraway places, people who speak and cannot
envision my ears or the actuality of the slick of the frog.
(Work abridged in performance, reproduced here in its entirety.)
*
Ixion at Mud
(Second Prize)
Evan Eisman
I have succumbed to the smell of sweating
mud thwacked by hooves and fresh sawn
lumber oozing pine sap, yellowing alfalfa
bricks, a snap, a whinny, and a mallard's
whack. I want to stand in the pen now,
barefoot in the steaming mud, among
the foals I want to buck. I know that clay
will pack and harden between my soft
winter-toes. In the mud I'll make amends
for the many mistakes I've made this year;
wearing my elbows red, bleating my knotty
stomach at the absent green -- cramped,
my heart turned to liver, my heart turned to spleen --
for months the brittle moth wings in my throat
have been swallowed, crushed or clipped.
I must be leaving for the mud now, sidling
up to the pent mares in the open where they
neigh, I will mount white-bellied Hylonome,
and she will bear our children, and they
will be centaurs, and not one will ever know
the feel of mud on soft soles, but four hooves
caked with piss-clay and sullied fetlock tufts,
the heft of horse, the mind of man, but burdened by
two livers, they will be too bilious, but also, by
two hearts, too good. I will keep their quivers clean
and I will soap their bellies until they eat and drink and act
like men, and then I will free them from the pen.
*
St. Brendan at Crosshaven
Christopher Neenan
Chill water, chill rocks, chill turn of the tide.
Sea-gulls on the sea wall, bitter with waiting.
Weeds rise and fall, like closed eyes in the water.
A breath off the river freezing our fingers to the rail.
Fisherman's lamps is a name for flowers lighting the water at the
rock's edge, warm like a window or an open door, a shelter from the
long haul of the sea.
Sea-gulls circle our small craft with visions of a river.
In the moorgrass running down to the sand, swept flat by the
whipping foam and salt, a god in the body of a hare beckons us in.
Curlews call to curlews of hard rowing short and ragged, breaking
the will and body
against the incessant teeming of the sea.
Here we move more cautious and more kind, more slow to close the
moon's eyes.
In the dark, cold clangs like a bell.
Moon and tide turn guides through the night.
They shine on splendid gates that skilfully light the sea from a safe
distance.
Sometimes they can close a door to us, blow out the light of a pallid
sun and let its smoking wick blacken the sky.
At a day's end, we have not found what we rowed in to find.
Moon and tide push us out.
In lines we talk, whispering over the waves' wash.
Winter stays long.
Very little warmth stirs in these night places.
We hear a tide turn and run over the sandstones, feeling for its level.
The moon comes out, silver in its old man's eyes, rips the edges of
clouds and shows a stairway over the estuary.
I shout the order to row on.
*

Stumbling Running of the Pines
Tatamkhulu Afrika
There is a pond in a fold of the hill
that I visit sometimes even though
it is not on the way to anywhere I need to be.
If it has a name, I have not heard it,
no squiggle on a map proclaims
that I do not dream a dream to please
the child in me that so demandingly survives.
Pines ring it, crowding close, beginning to slant
a little as the winds lean on them at their allotted times.
Pines are not for writing poems about.
Where the beauty, grace, hamadryad in the wood
of these still to be lopped poles with roots,
their thrusting upwards as through they would outstrip
the shaggy long johns that pass for leaves, would consort
with an unearthliness of stars?
They stay green all the year round?
True, but all else dies within the deserts of their shades
and who shall bamboozle me that needles are not hairs?
Yet I must admit the pines fit the pond.
Willows would be too twee, silver poplars too
much of a celebration that the pond would laugh at
with the steel chime of its tight as a bellyskin
circlet of black water even the birds shun.
It does not lead you to it down long
slopes of needles that would floor you like they were oil or blood,
does not slack the armadillos round
the nuts that are the quantum leap
from woodenness to a passion you could share.
Suddenly you are walking in the water as though
some giant cat or witch's familiar pissed
in your path and now you think you hear it scampering somewhere
near.
Each time so tricked, you step
back from the water, shake
it from your shoes, cup
it in a palm and it is clear
as glass and cold as death and yet
alive with a rhythm that is iron's.
Also then you hear the sound,
gentle as a patting of hands,
of small beasts drinking in the round,
ringing you beyond the light
of the torches your mind flings, and you prowl
the pond with no hope because
you have done that so many times before.
Somewhere a flowing water is entering it like new blood,
must be leaving it somewhere deep or else
it would swell, but there is no fall however small
that rings its tiny bell, only this
resonance in my bones as of bees, this
entrapping of my mind in the black
deepening lacquer of the pond, and I stare,
rooted in the stumbling running of the pines.
*
Untitled (My lunchbox holds bones . . .)
Reese Thompson
My lunchbox holds bones, that clamor as stones, a little lank from
lactose
when I return to you, a blood baby, well-groomed with a clean
diaper.
Already so sick, I go on, choke and spit.
Charity overtook them, when they made me. My mother's face
flushed
like a broken rose, about to die, withering red, rather impatient for
winter.
Her belly of bones, restless with whining, the lank you go lactose
over.
Even in the womb, statuesque sisters held parliament, gripping deep
as
gnarled trees in the dirt - tomb raiding - nude as day when I was dug up.
Already so sick, I go on, choke and spit.
Then daylight closed in and eclipsed just as quick, and I went
shoeless
into the world, as orphans cut away too soon, will go on, with the
burden
of bones, my father in a lunchbox, a little lisp from converting to dirt.
Noon, lit, draped in its shadowless suit, and made me seizure under
a new sun. Life clung to my gut like twining ivy, and I was an artist.
Already so sick, I go on, choke and spit.
I remember the storm of my middle hour, watching clouds roll all
afternoon
and fought for the measure of life due me. I ache for your stone.
A lunchbox of bones, sleepless alone, a little drunk from hunger.
Already so sick, I go on, choke and spit.
*
The Work of Hardening
Robin Lim
Missing you,
I turn away from the galena color of our baby's eyelids,
close my face to the smell of hay and the copper of morning.
Now dry heart. Now clenched soul.
Parts of me lie planted, like corn in cracked earth,
on roadsides. Other
parts torn, discarded
I pray for you to be whole.
I pry at my locks.
Today I saw a man your age
in a neat pine box; not a cliché, just really
dead, his hair still so black,
the wood still oozing sap.
Kalinguya songs for him.
Gin-eyed cousins, passing shots, singing...
"Today we sit together, brothers and sisters, listening.
Together, listening to nothing. You speak not a thing."
After three days of the aunties, waving newspaper over his face,
to keep off the flies... they will bury him
on a Filipino hillside.
Where are you sleeping this night?
This night I'll receive
a baby, into my shaking hands. I remember too well
the night you received our son,
sure hands, ocean-eyed.
You were the tree I hung from,
and in pain I did bite your flesh.
*
When Gravity Fails
(after Nietzsche)
(First Prize)
Nicholas Johnson
When gravity fails,
everything is up for grabs the way you glean directions:
the slow harvest of piling fraction on fraction
to come up with whole numbers and a new direction
not discoverable by ordinary prepositions.
There's a simplicity about it that attracts
as if the spirit of gravity were still operative
and it were possible for the hand
to attract something clear without being grabby.
Eyes have become hooks I can hang a sky on,
but legs hanging over the edge of a roof make me nervous.
Getting the picture and framing it
is never perfection but a beginning,
and when you lie beside me,
I feel like a mirror with a hundred eyes.
But that doesn't make you nervous.
There's something clean about being afraid
you'll fall off the roof or the bed.
There are reflections to contend with,
but reflections are only the complications of light.
Figures of speech, too, are charming
if you don't examine them too closely.
When you do, there are visible bruises
you can question, but don't expect an answer.
Both of us drink from too many glasses
to prevent dying of thirst.
Sleeping then becomes the lord of the virtues,
but there's a strength found in avoiding it.
When it does come, your sleep is the sweetest thief I know.
Nothing seems to be missing: your mouth opens
and the eyes close, and all the pictures slide
down the walls as the hooks come unfastened.
The glance downward causes the hand to reach up
to steady itself, and I can see you on the roof
under the milky paths of the more visible stars.
Mornings-after require more mornings,
but the failing of gravity is countered
by the litter of butts, empties and forgotten puns.
Morning then recurs like a bad cough.
Voices grate like slate pencils.
But there is still the pleasure of pleasure in a face.
The hand holding up the mirror is your hand or my hand,
and now, even everything will never be enough.
~ ~ ~
Accident at Windsor Station
Saint Patrick's Day, 1909
(Outstanding Semifinalist Poem: Content)
Naomi Guttman
In the sodden winter light I went
to meet the tall black engine, hoping
to see you well and greet you
with the children in my arms. I'd baked
a cake and set the house in order, but
when the steaming locomotive tore through
wood and plaster crashing, the station master
shoving us aside, (Bougez! Bougez! he cried),
I thought only of us, the ones aground.
Another woman and her children died waiting
for their man who, when he saw their bodies
hollered like a horse gone wild.
In the blue-capped bedlam I searched for you
as best I could and when I couldn't find you
headed home feeling barely saved, perhaps abandoned
by calamity. I've wondered since if indeed
you did arrive and see us chalky, scared, relieved:
Did we remind you of a promise made in youth
and never kept, things being what they are in life --
all compromise? Once you said that misery
is preferable to boredom, and when I think of this
I hear that man's desperate cry.
Did you hear it too?
*

Cantus for the Horses
(Outstanding Semifinalist Poem: Reach)
Rob Wright
On June 18, 1815, at a crossroads between Grande Alliance and Waterloo,
50,000 men and 10,000 horses were killed in an afternoon.
I
The rye tops have been bleached in the heat
blond. Milkweed pods and thistle down
as fine as the unnamed fluff on a baby's neck
fly. The hay is ripe.
Time for the first cut
but horses and soldiers
have been trampling the fields
so that for miles it looks
as if a squadron of ships had been dragged
by a drunken giant
up this hill and down that.
A girl in homespun lies on her back
knees up
as if left for dead
and well she might.
Flies light take off light.
Grooms polish tack
and lather leather burnished chestnut
by the backsides and thighs of scarlet riders.
The smell of soap and pond water is a comfort
but not one of them
foul-mouthed and stinking
of sweat, dried grass, hot wool
would admit to this.
Horses are tethered in a long column.
The ground has been scoured to dust
by prehensile lips
snapping clodding
Bridles and blankets off
they're oddly naked and feminine
even the odd stallion
with a prick pink as a coronation gown.
A clutch of sunburned men
with brass hats, like firemen
ride cannons to the front.
The mud stains on their backsides
are the shape of crocuses.
II
Whistles. Shouts.
The grooms point to horsemen
cantering up the valley road
polished pretty, chrome flashing
sweethearts signaling through the haze.
French horses coming over at mid-day
as if for tea.
The cannons fire. Instantly
the ear squeezes down
a puckering sphincter
except for the central ringing
and a worm-hole of pain.
The grooms hop behind the guns
like barn kittens looking for a nipple.
The cannoneers work like midwives
trading buckets, rags
wiping out steaming holes.
Shot is carried in a blanket
like an iron 'Christ the child.'
Men are barely clear the barrel
when the firing hole is touched.
A tree branch, three horses
brass kit, sabers, riders
fall
as if on cue.
The French stand like idiot children left at a cross-roads
and take a volley
up the middle.
A cannoneer who has found the time to strip to the skin
waves them off. They stand
and take another.
The horses fall slowly
legs body neck
last the head
like a rug full of dust.
The midwifery at the guns goes on
sulphur smoke, smoldering grass
air as thick as a bathhouse, mad laughter
stops
not by command
but as if everyone had run out of things to kill
at the same instant.
III
More than blasted trees
more than the tatter of bone and wool
more than the legs sprouting up like weeds
what I see are
horses. One has fallen
not ten feet from the water carriers
belly up, eyes reflecting the wide sky
legs moving slowly
still running.
*
Encounter at the Butterfly Conservatory
(in memory of Frida Kahlo)
Madeline Artenberg
I don't depend on legs
my wings are real after so many dreams
I rest folded atop
a girl's ebony hair
like a black and orange-spotted comb.
Her amor looks astonished
as if a Spanish lady had replaced
the eighteen-year old girl,
ring-pierced septum and small silver circles
through her eyebrows,
trailing down the ears.
I am no longer bound free
to fly under this false sun.
No one has cut me from cardboard
placed me on this dark canvas
I make my own way
bounce off four walls
flutter from host
to host. The young
female is dwarfed by her all-in-leather man;
he proudly announces that girlfriend and butterfly
have spent one hour together.
People run with fingers extended
swat the air to capture some flutterings;
"Stay, stay with me even for a minute," they say.
But I've chosen this particular one
skimming her tattoos
before landing steadfast.
The couple readies to leave
I lift off, warning her,
"Always stop to look in the mirror;"
spread my wings
like a pair of black eyebrows
joined beneath a third eye.
*
Eternal Vigilance
Susan Scutti
Repeatedly, the gong of a
cathedral bell.
The sky is technicolor blue,
the brick wall a byzantine red.
Chaotic sheets twist
around my hips and thighs.
Until dawn I'd looked out
at the building across the courtyard,
up at the watertower shaped like a pulpit,
a black silo set against the orange, ghostly New York sky.
I thought about the time I lay
awake most of a night
admiring you.
Now I linger, imagining you in your life:
the silent man unlocking a door on Great Jones as two trucks pass;
the burning cigarette rising to your parted lips;
a dog's bark;
the slamming door.
Intact,
your heart is beating as
you climb the stairs,
strands of gray hair falling
across your temple.
*
Hansel, Gretel and the Black Bird
Reese Thompson
Noon's enterprise is little more than catatonic
from my third-floor window, so I shut the shade
and turn on the lights. nothing has changed,
even the thin scaffold, skeletal round my heart's renovation,
must await its worker's arrival at lunch time and dinner.
They're underpaid and hungry, letting the foundation
splinter - little progress all the same.
I remember, as far back as this morning, and muse -
how easy things come about and are predictable. like
the sun in the morning will never fail to cross
from the dewy frost, fierce into its blankest hour - wide -
just as I have, cut my path into manhood, all the time,
at my own risk. I remember, as far back as this morning,
to my dim beginning and muse - how easy things come about
and are predictable,
like a boy, an eventual man - without question.
There was a story - Hansel, Gretel and the Black Bird -
they tell to the inmates when they're first abandoned.
The muzzle-bound, bib-wearing set of kiddies on a carousel,
icig the same forest for years, unclaimed. waking every
morning with hate on the breakfast plate, a cup of coffee
and a dead father. I remember as far back as I can stand
and muse the obvious, how easy things come about and
are predictable. like a widow, her heavy purse, can persuade
the jackal to visit. as night would descend on daylight, and
Hansel and Gretel go giddy-eyed into the forest.
but then years pass in this same fashion, and already mad from
hunger
and paranoia, Hansel and Gretel turn on each other. like survivors
in a lifeboat, the outcome was inevitable. how owls' eyes at night
fool you to another kinship and you forget the intentions of your
vengeance, ours is a story of recycled victims. just as the sun never
fails to circle the same practiced path every morning, we go on -
now adults - searching for a way out of the forest. but my hunger
is a black bird that will burn only at the chance to court fire! and
the hate whose home it made in my orphanage, was all too
anticipated.
I muse - how easy things come about and are predictable.
*
Haunts
(Outstanding Semifinalist Poem: Craft)
Mark Nickels
One day, in fall, a toxin entered into me.
I expelled it then, but not before an impress.
I sidestepped, shuddered, froze, and turned
into a scarab, avoided looking in the mirror,
and shaved by touch, and shaved my head.
Altogether I became a sliver, a shutter,
a shadow in the Prado, a maneuver
to become someone about whom nothing was known.
I fished, made inexpensive meals for myself,
and recorded on a tape broods of cicadas,
wastrels, new shelled layabouts with husks,
eternal loafers, like the dead, at once
companionable, and disinterested.
Thinking of the people I had met that day,
with love and fear, and up all night
to welter in the wake and by the haunt of others,
I reckoned the whole thing a haunt:
my brain, the world, the diorama clouds,
somehow love's hardware damaged,
a signal curse of watchers and of waiters,
descending in the bitter blood of ancestors,
a fold in air I delved out for myself,
an envelope to shelter in.
When my father, lowered by a winch into the ground,
was lowered by a winch into the ground,
the others in the family clustered while I stood apart
and dealt myself this little wound.
At least it has not worsened over time.
By indirection I survey dimensions of this spell
of otherness, the volume of the violence there,
and sourceless grief, self-loathing in a short parade
that trails me with its panoply of fireworks,
a train of invisible pull-toys clicking, and whirring.
I hardly see it anymore, a festival creche
for my Brooklyn fire ants. Still,
when good things happen, look into my ear:
two creatures in the mind still slash and bite each other.
But I have weighed these things, and now
I work. It is what happiness costs.
*
Hand that rocks the cradle
rules the world.
-Pastor Eric
I ogle hi-cuts at the beach,
the statues which lend them substance
deflowered by the waves,
but if I have to pick a friend
to walk with every day,
I am the dew on the nettles
licking the tendons of your feet.
I learned to water the meadow in me,
play background music of soil,
and trust the fading empty heart
drawn in my breath on your glasses.
I grew to mistrust the geyser of will,
the testosterone current
which kidnaps virgins, holy books,
babies in wicker baskets.
When I enter, I long to be
the dawn you greet,
the air you breathe,
the milk in your breasts without agenda.
When I swim in your belly, I envy our child
the season before fingernails.
*
my hand understands & hears without ear,
adds voice, grammar;
The tree of sorrow parts to bear its fruit;
this is love's animal before you;
The surface grows hands,
enters & examines your sleep;
isn't any just - voices grieve, thoughtroads -
home, in handfuls of care, isn't any deed;
It's hard to be human.
Tired? Climb & circle?
I change the room to a rag, wash your face;
I want: brown, green, rain, cellar, cowslip, 5 fingers -
you promised our old age together,
bare feet on the porch rail, no underwear -
would anyone notice? would the flies come?
mosaic eyes align, seed & reseed you, barefoot,
actsong in deep water; the waves' smallest
handful, you in your little coat sucked dry, your skin
with no juice in it & my paw beloves you.
*
Love from a Blue Window in the City
Mia Albright
I recall, your fingers dripped to a glass inside your knee;
As you talked to someone else, one shoulder leaned
into my evening.
Later, an adventure of lost objects formed at my back;
I began to try to remember the public names for flowers.
Began to collect the world one thing at a time,
Like Conrad's character sipped the surface he swam in.
When I considered your opinions as if they were your body,
I discovered what it is to play with time is high.
The air tightens around fall and opens around flight.
Not having you, time and I became lovers.
Memory forward not back.
I guessed you didn't want waves of arms, hands, fingers
Mouth and neck, to drown you in a spoken breath.
You must insist your aggression is the best.
I see you miss the light stray across your lips,
While you explain something superior to me.
You don't know what I mean when I shrug.
I can lose myself losing somebody else
As if their address were a slab of prize green marble.
Passion has never forced you to breathe;
Nor will my storm.
Any more than a branch of apricot petals
Ever forced anyone to love.
*
Old Babyface
(Outstanding Semifinalist Poem: Musicality)
Jay Chollick
Somewhere,
but not too deep into the
muddied flesh,
I am an infant lying in its
startled light, the world
incomprehensible,
and painful in its thwarting
of desire.
And weighty years
have not submerged this
genesis--
the infantile still flares and
beats its fist
and I am still so many
chubby things,
still longing for the breast
and for the succor of its calm
to lie against.
Age beaches strange.
Still quivering, a child's dread
lies prone
as youthful mocking attitudes
keep washing up-- haphazard,
pale with salt,
though some parts gleam--
transfigured,
but familiar.
And how the coarsened infant
seizes them,
turns mother-soft and
welcoming, cries where have you
been and clutches the
irrational; the irritant;
the vagrant needs
that had shown prickly surface
once, these phantoms,
like the cries from children
torn they reassert themselves,
they stretch their tensile length
to agelessness
and then rear up blood minute
from the softest clock. O how this world
roars into me! I shook
within the premier blinding
of its light,
it was my child's youngest
dazzlement, still
potent now-- it's how
I saw, still see the flower;
my eye and petal
open to the light and there is belled
still into tender ears,
love's music
from the mother time
And then, as now,
I'm teetering; a dizzy land
united in a crumbled and despairing
age with limpid
flesh;
still looking wonderingly at my
hand, each digit free
and miracle--
but what is truly strange is
backward into deepest need:
old mouths still seek a kind
and tender thumb.
*
Turn on Tavern on the Green
Christmas trees, each branch streamed in light like
a girl radiating, each finger prickling heat-wise
and my words which stream past my father's
hearing-aided ear like a downhill sliding child
The infinite slowness of sound to my father
Empty regions in thin sheets like the universe
His ears lit only by evening
the voluptuous awakening of night in his ear
My words fleeing before spoken
like fairies before dawn
The girlish corpse of sound in his ear
His ear is sound's funeral
*
The Weeping of the Penny Whistle
Peter Horn
The penny whistle begins to weep
in my dreams: when was it I heard it
for the first time, and now I cannot silence it.
It weeps, monotonously, like the water
running over the stones in Jonkershoek Valley.
It weeps like the wind: it weeps in the distance.
I weeps for all whistlers who have died
in the long years of hunger and birdshot.
It weeps in the sand that has been drenched
with the blood of passers-by
when the bombs exploded
in bars and churches.
It weeps in the trees, it weeps with the birds,
it weeps in my dreams, climbing the scales
of sorrow and madness.
~ ~ ~ ~ ~ ~