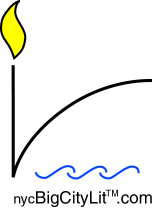 June '02 [Home]

Other Arts: Dance





'Hip Women' : ASAMED Middle Eastern Dance Showcase


at New Dance Group, W 47th St, NYC (04/20)

by Zoe Artemis

On my way to Times Square to review this performance, I felt a little queasy about being out on a Saturday evening in this neck of the urban woods. Between the garish Disney surroundings and the crush of tourists, I felt like I was in the movie, Blade Runner—and in the middle of a perfect target for a terrorist attack. However, as I waited in my seat for the show to begin, the contemporary Arabic pop being played was calming and delightful.

Among the featured performers were world class dancers offering a variety of styles and music, from classical Middle Eastern, Lebanese, African, Indian, and Tribal styles. Moods and moves of honoring nature, storytelling, earth ceremonies, flying skirts, flowing veils, balancing swords, and sacred temples transported us to another time and place.

Belly dancing has its origins in the ancient matriarchal cultures of East Asia, Africa, and the Middle East. The dance is made up of moving geometry: spirals, circles, figure eights, undulations, and snake-like movements. The ancient dancers were priestesses, sorcerers, shapeshifters, keepers of the mysteries and sacred ceremonies for their respective communities. The sisterhoods were endowed with great respect and power—until the patriarchy moved in and little by little women's communal workshop/living centers were replaced by churches.

By the time of the Roman Empire, dancing became merely a form of entertainment and sacred dancers went underground. Women continued to dance, but in the privacy of their homes and in the company of one other. Belly dancing became very popular in the U.S. during the 1950's-60's, then went underground because of Middle East politics, only to re-emerge even stronger in the late 1990's.

The dance is popular for a variety of reasons. It does not glorify youth, so women of 18 or 70 can study and perform the dance. As a work-out, it is unusually fun, feminine, and confidence-building. Finally, it allows women to express a number of goddess/female archetypes that lie dormant but eager to come out to be honored and expressed.




Black is Beautiful:



The Nubian Moon Daughters, founded by Se'at Rah Arianna Tiye in the new millennium and inspired by the Pantheon of African Goddesses, stole the show, brought the house down, and electrified the room.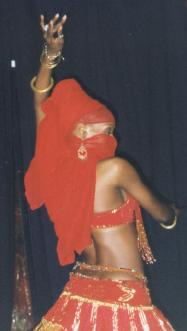 Three young African-American women whose noble, bold, fiery, and spiritually developed energies appeared to channel the Shamaness who services her village as a healer and seer, the go-between earthliness and spirit world. Their 'AfricIndian' dance style fuses North/East/Central African, Middle Eastern, Indian, urban voodoo, and tribal styles. They rocked and swayed harmoniously, raising the energy in the room to a collective rapture.

For their first set, 'Kaitha's Dance,' The Daughters were dressed in two-piece silk/chiffon blood red, tasteful cabaret costumes à la Josephine Baker. The music's Latin beat, combined with their earthiness, sophistication, and superb self-confidence, conjured up images of the exotic dancers at the Cotton Club during the 'Roaring 20's.' So focused was the motion in the hip movement from left to right that their hips moved independently of their torsos, like a pendulum swing beneath an immobile clock, as they spiraled and circled through the space.

The founder received the first part of her name, Se'at Rah ("daughter of the sun"), in a naming ceremony handed down by her African mother, who is also a dancer.

For their second performance, 'Daughters of the Dusk' the Nubian Moon Daughters were dressed in Tribal Style costumes: black cotton cholies,gypsy skirts and head wraps—stunning Zen simplicity.

With their tribal and AfricIndian movements, these dancing sorceresses were creating spells, praising the Earth Goddess with their dynamic hip moves, and weaving magic with their hands. Their improvised ceremonial earth dance, ferociously waking up the forces of nature and invoking the Goddesses, had the audience clapping, howling, foot stomping, and boisterously cheering on the story of powerful women in charge of their own destinies.




Stillness of a Goddess:



Andrea Anwar danced to 'Memory' and wore an elegant lavender one-piece cabaret costume which is becoming very popular again. Andrea's Pharaonic (ancient Egyptian), serpentine arm movements were enchanting and her pelvic movements were meditative, deliberate, internal, and sensual. Quietly seductive, graceful, and elegant, one got the feeling she was dancing at a sacred temple. Her spins were beautiful. It was the first time I had seen floor work done with a veil and it was superb. Andrea taught us a lesson in 'less is more.'

The Mystery of the Veil:



Dameshe made her mysterious entrance as a seductive Cleopatra with a gold veil draped over her head and upper body. Like secrets concealed in a picture of parting curtains, veil dancing symbolizes mystery, the unknown or a safe haven. The veil honors the elements of water and air and we were captivated by its flow. Dameshe's movements were slow, sinewy, sensual, and meditative. As she dropped her body to the floor, her backbends were quite impressive. She closed the piece with exquisite snake-like arm movements and beautiful hand prayers.

The birth of the Romas (gypsies) was told to us in story form by Sabah Nissan. Dressed as a Roma man, she delighted us with the origins of the Romas who migrated from India over a thousand years ago, traveling to North Africa, the Middle East and Europe. So strong was their need to dance, sing, play a musical instrument and perform, they took to the road.




The High Art of Flirting:



Katia is a dancer's dancer and it is always a special treat for me to see her perform. Her range is enormous: from the classical to folkloric, always elegant, known for her strong stage presence and haute couture costuming, Katia has developed flirting to a high form in her performances. Her technique is superb and she knows how to seduce an audience with her eyes better than any dancer I know of. In her two performances: 'From Egypt with Love' and 'Dreams of Ismailayah', she swayed, she shimmied, she rocked, her movements in a contained manner, always coy, always captivating, always Katia's way.


Amazon Beauty:



Alyra Nurai not only danced with one sword, but two swords, one gold and one silver, balancing both on her head, like a consummate trapeze artist. The skill, focus and discipline to pull off such a feat is practically unheard of these days. Alyra is both very physically strong and very feminine. She made her entrance to 'Song of the Pharaohs' by master musician Omar Faruk Tekbilek, in an earthy, red-gold costume, her arms covered with gold and silver bracelets, and exquisite coin tribal top, carrying one scimitar.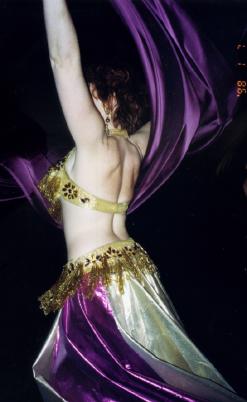 Nurai's movements were deliberate, strong, alluring and meditative as she narrated the story of a great battle in the Arabic desert where she goes to look for her father. Carrying one sword, when she finds him dead she does not weep, but rather, takes up his sword as well, to honor his sacrifice and to avenge his death. Her performance was captivating, inspiring, and mesmerizing. Her visionary capabilities with the double swords can at once boil the blood and stop the heart.
There were also delightful performances by The Dancing Rubies, Alexia, Mystical Motion Dancers, and Safa. The Dancing Rubies wore simple, but beautiful boldly colored costumes; Alexia's hip work was masterful. The only negative comment I would make is that the two-piece cabaret costume is best worn by women with firm bodies, whatever their age. However, part of the beauty of the ASAMED showcase is that it is inclusive and allows dancers at all levels of artistic develpment to perform.
Oriental dance is neither driven by eros nor by the misogynist harem tradition, but rather, preserves a style of women's artistic expression through movement which stresses feminine power, self-esteem, and sisterhood. The ASAMED organizers clearly know that and I commend
them for keeping this ancient art on view.
Photos by the author: Nubian Moon; Dancing Rubies
(Zoe Artemis, a writer, dance therapist, teacher and performer of women's ethnic/ancient dances, lives in New York. She worked for the Carter Administration between 1977 and 1979.)