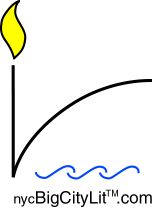 Series / Event Review

Launch Reading for PoEP! A Poetry eJournal (12/20)

Louise Glück and Karl Kirchwey at 92nd St Y (02/04)
by Daniela Gioseffi
Glück is masterful with her simple language, but one can't find the passion of a rich emotional life, rather, there is a tone of boredom, ennui, disappointment that does not abate.



~ . ~ . ~



Launch Reading for PoEP! A Poetry eJournal (12/20)
Issue 1 $5
Rattapallax Press
by Bill Kushner

Rattapallax Press, under the direction of publisher Ram Devineni, keeps going onward and, with this first issue of their new e-magazine, PoEP!, upward, way upward. I understand that PoEP! is published twice yearly, under the overall editorship of Edwin Torres. Each issue, however, will have a guest editor, for the first, Anselm Berrigan.
E. Torres, R. Devineni. © 2001 Big City Lit
Berrigan, a first-rate young poet himself, has chosen work from fifty-two poets, who range from the well-known, such as Robert Creeley, John Yau, Bob Holman, David Trinidad, Alice Notley, Sharon Mesmer, and Todd Colby, to poets making their debut here. The launch took place at the St. Agnes Branch of the New York Public Library (444 Amsterdam) on the afternoon of December 20.
Oh, this gorgeousness from Colby, the first stanza of his poem, "The Tongue Stun":
Brilliant orange into neon red
I doze off, switch places with the sun
Return to go and then come again
I am this small creature pulverized
Yet still shift by my own design.
Yes, the New York School is alive and well! I very much like this from debut poet James Shubinski Davids's wise, irreverent poem, "Hudson":
I was walking slowly, no energy to bother with much
and I fell asleep somewhere on Jane street
left my head on the ground and kept on going.
There's an exciting mix of style and content throughout which I, as poet/reader/contributor, find both stimulating and inspiring. Heard of Fred Moten? I hadn't, until PoEP! His poems are portraits of such Black icons as Cecil Taylor and (from his) "James Baldwin":
hey somebody, some jewels lined up
like hard flowers, pull that one
jump the hidden balcony the air
get pierced and snared
and soft down to the street and roll
to Fanelli's …
Beautiful, rhythmic, creamy stuff that makes his poems go on and on, long after they've ended.
Heard of young John Coletti? I hadn't, until. His poems are urgent missiles written after the September 11th tragedy. This is from "Adaptitude":
It's as dangerous as it ever was
This nudging to clam up is
The most fearful
Side effect of living
On Television's Friction …

In a time like this keeping a language intact.
Along wall: Torres, Berrigan. © 2001 Big City Lit
That rallying cry, "keeping a language intact," is what it may be all about in these times of uncertain days, unquiet nights. And what better way to do it than in the company of such as these poets? But so many poets! Our cups over-runneth. Oh, also, from Robert Creeley, you get pages of his Mellon Lecture at Skowbegan School for the Arts, given on July 23, 2001. What a treasure to read this modern master's thoughts upon the very essence of art.
You get a delicious glimspse into a "mock-epic based on the 1950 movie, All About Eve, written as a collaboration among David Trinidad, Jeffrey Conway, and Lynn Crosbie, and titled, "Phoebe 2002—An Essay." It starts off, "In the powder room the women come and go / talking of Marilyn Monroe … " and goes on to get way funnier and bitchier. Consider this one excerpt from it:
JOAN CRAWFORD
Look, there's nothing wrong with my tits, but I don't go throwing them in people's faces.
BETTE DAVIS
That little blonde slut can't act her way out of a paper bag! She thinks if she wiggles her ass and coos, she can carry her scene. Well, she can't.
JOAN CRAWFORD
Too many actresses today are little more than tramps and tarts.
The rest of what's in "Phoebe 2002—An Essay" is burning hot and not to be missed!
You also get one of the most powerful poems ever written in this world on the subject of love, sex, womanhood, what it is, is not, in Alice Notley's "Am An Incorporated Dead Women Material," a touching, bravura poem:
…I'm in bed with my dead true love in a rather public corridor, because this is later so he leaves, and the pornography is the depiction of the veritable trees whispering love is the floor sex is more the fore the arrow of plenty in political power all of our poetry is the whore of pornography's bastard bestial obeisance to the forms of the given rites unrelinquish fed, I wanted to love him longer…
Congratulations to Devineni, Torres, and Berrigan on this first of what looks like a brilliant series.
(Bill Kushner's latest collection is That April, from United Artists Books. That and his others are available for purchase through Small Press Distribution at: (800) 869-7553.)