nyc

BigCityL

i

t

.com

the rivers of it, abridged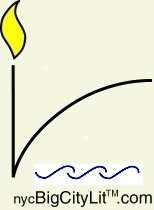 Poetry


Fall 2014 / Spring 2015
Paul Espel
Next of Kin
haunted—questing
the vast canopy for
plausible companions,
unseen wonders,
mute so far, in a blue
forever sky—
or the unsurrendered
forest beast, that leaves
its thicker footholds
in the snow—
now the shivered
cricket that we hear
inside yet cannot find—
whose small, true
voice echoes unending
calls
The pagan sun inspires, almost a deity.
Though thick dark woods still harbored us
some blistering days. The rains, Niagaras,
came and went, we carried on as winters
blew and blew. The world beyond—a distant
constellation, from our view. What little
we had, what little we knew, was adequate,
resource enough to see us through. And yet
diminished, wore us down, like canyons
where the muddy Colorados, swirling brown,
go blasting, hurtling on to drown. And we
continue laughing, waving, past the final
fearless towns. Swept along, inevitably,
toward the broad, relentless sea.
Back to Poetry