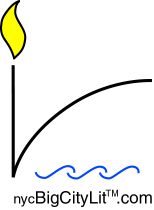 Letters
The editors invite for publication on this page well-written letters or
speakeasy pieces on any topic of concern or interest to the magazine's
readers. Please indicate date, author's name, email and postal address
and phone, even if requesting that the name be withheld. While we
prefer that no text exceed 350 words, the language of composition is
not limited to English, rather, may be any major European language.
(Sorry, we are not equipped to produce other alphabets.) Send to
editors@nycBigCityLit.com, Re: Letters Page.

America, do not . . .
An Open Letter from Patrick Henry (UK), Contributing Editor

I went to New York in April 2001 after an absence of exactly ten years. I loved my visits before but this was the first chance to return. It was National Poetry Month there and Internet magazine Big City Lit were publishing my work and arranging public readings: at Caffè Taci uptown near Columbia University, Cornelia Street Café in the Village, and at The Ear Inn in SoHo.
My visits to the city have always relied on being accommodated in spare rooms, on sofas and floors of friends: one, a Black poet in the Village already begging his floor from another host; one, a mulatto in Harlem giving me his bathroom to sleep in because it was too dilapidated to use for any toiletry.
But such luxuries and camaraderie belonged to the past and now I sought shelter in backpacker hostels--cheapest beds in New York apart from the flowerbeds (that I have also patronised). From a four-bed dormitory on 20th Street, I switched to a twelve-bed dormitory on 103rd Street, following my work, which is reciting poems in bars on afternoons and evenings, and trying to write more poems every morning in breakfast diners and in Morningside Park after I got kicked out of the hostel.
That place contains every nationality in the world and we get on fine; we have the common nationality of backpackers: thrift, watchfulness, the quest to keep moving. We are in the world only a short time and we are the ones who will never own much of it. We do not have the time or the reason to hate each other or anybody, though I briefly resent the Japanese who move in at two in the morning and then the Norwegians who move out at four in the morning. Everybody hates my tremendous snoring. Some tell me so; others move out because of it, and I feel guilty.
I take responsibility for all my waking moments, but sleep is another world and dreams are its culture. In the hostel those dreams are loaded potently with all the presences passing through the place, back-dropped by the visions of New York collected around the gutters every day. My eyelids click to register the foreign visitors changing through the night, unable to decipher which parts of them marched through my dreams or which through my so-called reality.
I exchange the odd word with everybody, and talk at length with a Venezuelan who worked in the London Civil Service for twenty years and thinks British values are supreme. One never knows what will speak from which face. That was the job I walked out of forty years ago to go on the road and write poetry. I don¹t mention this. I am only here to listen and deliver poetry: an exact science in my estimation.
I prefaced my reading in SoHo, explaining my name did not derive from the Virginian revolutionary I so admire but from my uncle who was an Irish cop in Brooklyn sixty years before. Afterwards, a Jewish man expressed enjoyment at my performance and I offered a copy of my book as a gift but he could not accept. It being the Sabbath, he was not permitted to carry anything. Such benign anomalies of ethnic correctness seem to me the essence of New York.
Now five months later, just a few hundred yards from there the city has suffered its worst disaster. Compassion is felt for all the victims and the rescue services selfless in brave sacrifice. Someone like my uncle could have been there; he was once badly injured guarding Brooklyn Docks.
The need for justice, vengeance and explanation of it all is highly understandable. Dislike of American power could be jealousy, resentment, and perhaps a lot more. Understanding all that is the great problem for the whole world or it could soon face its worst-ever threats and disasters. The outside world could be puzzled and worried about why you now have a leader whose culture and dialogue sound like that of the Lone Ranger, but the figurehead does not always steer the ship of state.
The British press this week quoted two veterans of battle experience inside Afghanistan: a Russian ex-colonel, and a British mercenary instructing tribesmen to fight Russians. Their joint message amounts to this: only Alexander the Great, finest general in history, ever conquered that country; Vietnam would seem a picnic compared to what Americans will find there. It took Russia two days to invade and eight years to get out, thankfully. In the process, they lost fifteen thousand men, many in grotesque brutality.
The enemy is hard to find, let alone outmaneuver in extreme geographic and climatic conditions of the most uninhabitable country in the world, and almost the poorest, having no trade or industry, nor food and water, enduring a three-year drought and a famine this winter. They have nothing to lose and everything to gain by holding the terrain they believe their almighty has given them and for which they will readily die, as has been shown.
Too many ordinary Americans, whom I like greatly, have already died because of failure by their heads of nation to find solutions. I saw comrades die as a British conscript; I have been through peace movements, endless analyses of turmoils of the Cold War, and followed the botched responses to the crises of the last decade.
America, do not send your young men into Afghanistan.

Yorkshire, England
October 1, 2001