nyc

BigCityL

i

t

.com

the rivers of it, abridged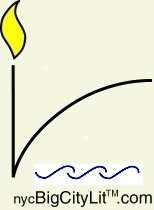 BigCityLit.com


Fall 2007

ISSN 1542-3123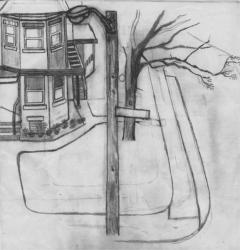 Only a hint of white
or the suggestion of it. Locked in a sound-proof
room, music swirling around my edges. And
afterwards words again, and flavours...

—J. Mae Barizo, "The Soundtrack"
Wednesday, March 19, 2008 6-8 PM
BigCityLit Poets
The Cornelia Street Café
29 Cornelia Street
b/t Bleecker & West 4th)
Cover $7 (includes one house drink)

Featuring poets from the current issue:
J. Mae Barizo, Jeanne Marie Beaumont, Margo Berdeshevsky, Patricia Brody,
Marion Brown, Chelsea Bunn, Robert Dunn, Allen C. Fischer,
Nancy Haiduck, Victoria Hallerman, Elena Kondracki, Donald Lev,
Stephen Massimilla, Susan Maurer, D. H. Melhem, Philip Miller,
Lynn Patmalnee, Ron Price, Larissa Shmailo, Joanna Solfrian,
Meredith Trede, Barry Wallenstein and Alison Woods
Call for submissions: Spring 2008
(Note: List is

not

restrictive nor preclusive of other themes.)
Epigrams; Moving/Motion; Dust; Corridors; Insects; Cemeteries; Smoking; Infanticide; Surrealism; Timepieces; Kites; Suicide; 'Lovesick'; Hands and Gloves; Wells; Windmills; and Small Town Wherewithal.

(Bolding indicates features which are scheduled to appear very soon.)
Consult Submissions for guidelines, Masthead for editorial policy.
Please query first on articles over 750 words.
Email: editors@nycBigCityLit.com.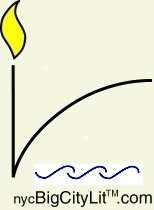 In This Issue: Fall 2008
Poetry:
That Time of Year: This Fall's collection includes work by Marion Brown, Andrew Glaze, Colette Inez, Donald Lev, Stephen Massimilla, Ron Price, Joanna Solfrian, Melinda Thomsen, Alison Woods and contributing editors Margo Berdeshevsky, Philip Miller and Barry Wallenstein.
Twelve features the prose and poetry of Larissa Shmailo.
Fiction:
Michelle Herman's memoir, Brotherly Love
R. Nemo Hill's surprising tale of

Clarence Tilting
Essays:
Robert Klein Engler's The Valley Of Its Saying: American Poetry And Liberalism:
Don't just get upset when you read this; listen and think.
Articles:
Davidson Garrett, The Poet's Decision:

Aesthetic Choices in Writing,

an inside look at Molly Peacock's 92nd Street Y Poetry Workshop.
Pete Dolack,

Class War and Drinking the Kool-Aid at Dow Jones:

What Dollars Do!
Reviews:
Larissa Shmailo on Ripple Effect: New and Selected Poems by Elaine Equi
Laure-Anne Bosselaar's A New Hunger, reviewed by Melinda Thomsen

Marion Brown on Kurt Brown's Future Ship
Pierrepoint: The Last Hangman, by Martin Mitchell
Bookshelf:
New Additions:

The Matter of the Casket,

by Thom Ward and Margo Berdeshevsky's

But a Passage in Wilderness.
CDs:
Music and spoken word by David Francis, Tracie Smart, Jeff Ciampa, Chris Mills, Richard Buckner, and Larissa Schmailo.
Events:
Wednesday, March 19, 2008 6 PM
BigCityLit Poets
The Cornelia Street Café
29 Cornelia Street
b/t Bleecker & West 4th)
Cover $7 (includes one house drink)
Contributors read from the current issue
Margo Berdeshevsky Readings:
Letters:
Big City Lit welcomes letters from its readers. Address correspondence to Editors@nycBigCityLit.com
Print Series:
All Print Series Suspended
Contests:
For the present, all Contests suspended.
Masthead Notes:
As we say good-bye to those no longer with us, we are pleased to announce new contributing editors Martin Mitchell, George Wallace and Barry Wallenstein; regular contributor Allen C. Fischer; and Associate Editor Elena Kondracki.
Contributing Editors:
Martin Mitchell, Barry Wallenstein, James Ragan, Patrick Henry (UK), Diana Manister, Philip Miller, Margo Berdeshevsky, George Wallace