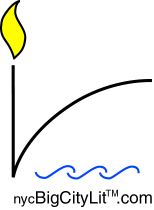 Series on Series

The Nye Beach Writers Series (Oregon):
Profile with Sample Poems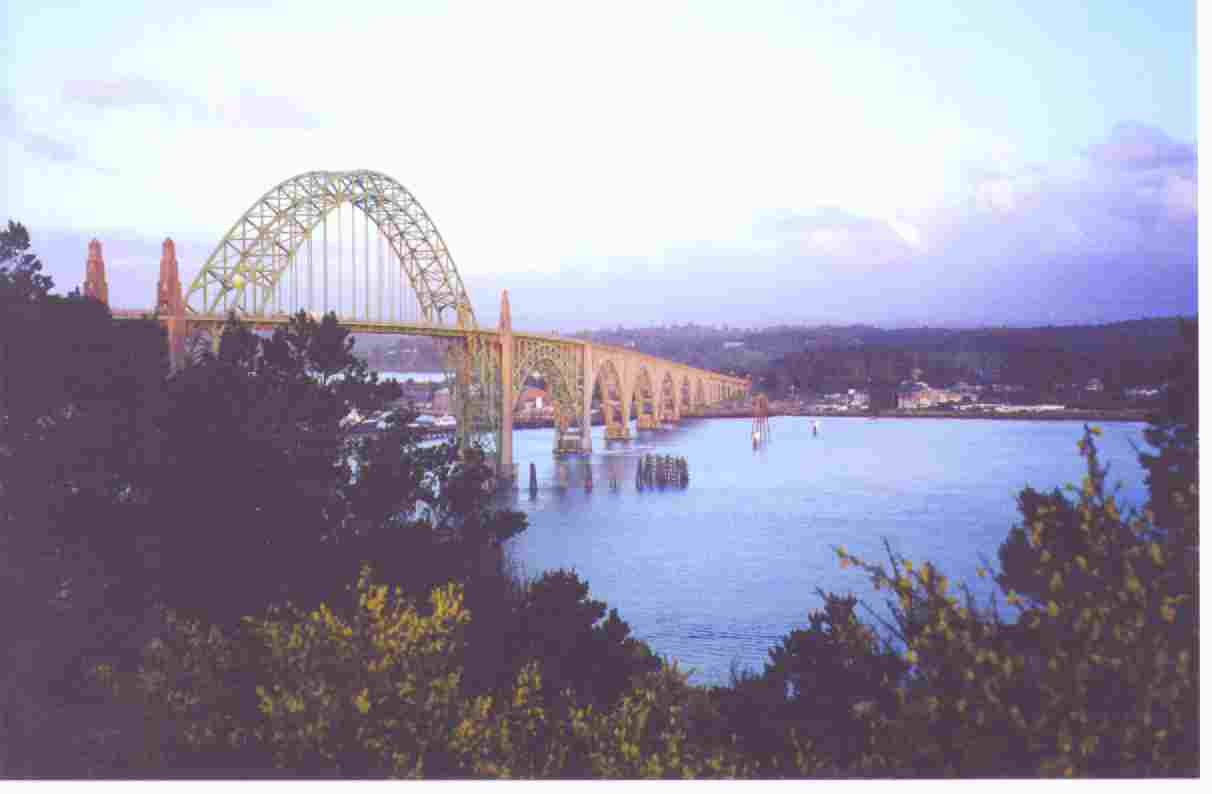 Newport Bridge (Oregon)
(c) 2001 Sally Grant Carr

Newport: A Pocket of Literary Love
by Leanne Grabel

Oregon is loaded with writers. Maybe it's the rain.

In Newport, on the Oregon Coast, the land ends abruptly. There's no beach, except at low tide. The cliffs are unstable and homeowners worry as their front yards sink seaward. To our backs is the Coast Range, low mountains that run the length of the state. The land tries constantly to reclaim itself, the blackberry vines, the fir and pine trees to propagate.

The weather's dramatic. The wind drives the lateral rain so hard, its droplets are like tiny daggers to the face. Then, all of a sudden, there's a sunset, the sky so orange, you want to make love. When it rains here, the most obvious thing to do is to stay inside. Oh, you can play checkers, dye your hair, reorganize the videos, but after a while you might as well record the internal landscape--in other words, write.

The Nye Beach Writers Series is a toasty pocket of literary love where writers are treated like the royalty most secretly believe they are. The year-round series of monthly events began four years ago in Yachats, a beautiful, quirky, intelligent village called the "jewel" of the Oregon Coast. The series was conceived and nurtured by Carla Perry, a poet, publisher, and tireless literary producer who grew up in New York City. Her concept was to bring writers--novelists, poets, even professional female boxers--to the beach, pamper them, and offer them the beauty of the ocean and an enthusiastic, isolated audience.

Now held in Newport, the program is still curated and produced by Perry, but with the added help of the Oregon Coast Council for the Arts, the City of New port, and the Sylvia Beach Hotel. World-renowned as a book-loving place, each of the hotel's rooms is named for a famous writer, decorated with the details of his life, and stocked with his books. Visiting writers receive a modest honorarium, a night's accommodation, with a sumptuous breakfast the next morning. Other participating hotels are The Hallmark Inn & Resort, the Whaler Motel, and the Elizabeth Street Inn.

A Goals 2000 grant from the Oregon Department of Education has allowed visiting Nye Beach writers to conduct afternoon workshops in the local high schools before the reading. A state-of-the-art sound system was built for the Series using funds contributed by a devoted audience member and matched by the City of Newport.

Since March 1997, ninety-six writers have performed at thirty-eight Series events, including poets, novelists, essayists, memoirists, slam poets, mystery and science fiction writers, playwrights, journalists, and nonfiction authors. One highlight was the multimedia presentation by Ken Kesey (One Flew Over the Cuckoo's Nest) which drew hundreds of people. Another was the appearance by Hollywood actor Peter Coyote, who read from his memoir, and then launched into an evening of erudite stories presented in casual splendor.

To accommodate the crowds for Kesey and Coyote, those events were held in the main theatre of the Performing Arts Center, but most take place in the smaller Studio Theatre, a cabaret-style setting, complete with candlelight and wine.

All events are followed by a lively question and answer period, and an open mic. Locals of every ilk have up to five minutes to present anything from surfing sagas to post-modern haiku, and from children's book excerpts to ecological protests. Readers range from nervous teens to retired, flannel-backed fishermen. Occasionally, songwriters accompany themselves on guitar.

Word-of-mouth has reached New York and California, so that the small town of Newport is now on the West Coast book tour circuits of quite a few publishers, along with Los Angeles, San Francisco, Portland, and Seattle. Perry collaborates with the Mt. Writers Series in Portland and with the University of Oregon in Eugene to schedule multi-city readings for writers who travel here from a great distance.

The Winter/Spring 2001 schedule featured authors Jim Bodeen, Doug Marx, Sandra Scofield, Larry Colton, Jan Clausen, Kathleen Tyau, William Kittredge, and Garret Hongo, as well as a one-woman show about Eleanor Roosevelt.

If you're visiting Oregon, bring rain gear. Established in 1882, Newport is anchored along the Yaquina Bay. Fishing fleets and fresh seafood markets enliven this hilly town, which won Sunset Magazine's Award for Best Western Waterfront in 1999 and was rated #8 in The 100 Best Small Art Towns in America. Its wharf is stage for boisterous, blubbery, belching sea lions. Keiko, the "Free Willy" whale, lived at the award-winning Newport Aquarium before he was returned to his native seas.

If you have a five-minute piece you'd like to read, come on by. The Newport Performing Arts Center is located at 777 West Olive. Tickets for the Writers Series are $6 at the box office just prior to the show. For other information, including details about featuring, call Carla Perry at (541) 574-7708 or write to her at cperry@pioneer.net.


Sample Poems

Short Rations
Jane Glazer

In a Canadian Pacific diner between Winnipeg
and Saskatoon, a woman lurches toward us
to sit down. Her husband, hands strong
as milking stools, steadies her. His hair
is tufted prairie grass, but she is frail,
her eyes as pale as blue skimmed milk.

They find the menu, glad for something hands
can do, and study choices, his eyes on the price,
hers on all that food. Then he orders: bran
muffins, two apiece. "Without butter," he adds
gruffly. "And bring her Ladyship some tea."

Wanting to ease a nervousness I sense
between them, I praise the texture of her
thick tweed coat. She stares at me, as if
she dare not answer. My voice frees him,
instead, to speak. Starved to talk,
he rasps out stories --

of bleakness on the land, homesteading
in the Territories fifty years ago,
winters he'd had to string a rope
between the house and barn, blizzards
so hard they blinded horses,
the coming of "electric" to the farm,
selling eggs to Indians, driving
the buckboard wagon into town.

I ask if they are going to visit children.
"She never had any." He jerks his head
in her direction. She adjusts the napkin
on her lap. When the muffins come and he stops
talking, she leans her body toward me,
fingering her sleeve, her voice an echo
from some cave within. She whispers,
"I got this coat before I married him."


Christine, On Her Way to China:
An Earthquake Poem
Judith Minty

"Buy that blouse," she whispered,
the earth already moving, though we didn't know it yet.
We walked over from the car, the blouse
expensive, pulling us to the window.
We walked rich and daring, with that thrust to our hips.

The gold beads were electric; she was my friend.
The night before, when I confessed my sins,
we'd both wept for what might have been --
the dreams that never rose, the lost father of the child in us.
"Buy it," she said in her throaty, Austrian way.

She'd just come from snow country to gape at fuchsias,
Scotch broom and poppies by the roadside,
to Northern California where everything grows big and wet and lush.
She'd come from barren white, a nine-month winter,
to trees in leaf and rivers shimmering like snakeskins.

I saw bolts of lightning explode from the black silk;
I felt something break, a sunburst;
I heard a rustle, the crack and fall of timber.
"Aztec goddesses in temples," said Christine.
"Will you take a charge card?" I asked the saleswoman.

The plates were sliding then, the brain exposed
a flash and spark, granite rasping granite.
The jolt came then, the earth in motion.
Buildings swayed, chimneys fell, the TV talk was rock and grind and rumble
I spun glittering before the mirror and knew we danced the fault.

Christine is flying now to China.
My earthquake blouse gleams from the open closet.
Someone told me once how he'd been standing in a valley,
felt the tremble, and watched the fields roll like ocean waves.
I thought, even then, how we are planted here,
how ordinary our lives are, how we must
make adventure from these briefest shifts and passings.


Why Eudora and I Live at the P.O.
Sally Ann Stevens

I am in love with the mailman.
Not the man who delivers
my mail but the man behind
the counter in the Post Office.
I make up reasons to go there:
a few stamps today;
a few stamps tomorrow;
a small package for my daughter;
a question about Canadian postage.

Sometimes the lines are long.
Like a polite citizen, I wait my turn.
I don't mind. Time to look at him,
unnoticed.
There are usually two or three clerks
open for business.
I play a game as I wait.
Will I get him?
Will I not?
The old pulling-petals-off-the-flower trick.
Will I? Won't I?
Today, I win.

He smiles.
"How may I help you?"
He is tall. Trim.
Tightly muscled.
Clean. Pressed.
His shirt retains the iron's crease.
He wears a name badge
over his heart.
RUSS, it says.
His trousers fit exactly,
the leg crease, unbroken,
perfectly centered.

His hair, parted in the middle,
is long, well below the ears,
black, wavy, sparkly
strands of silver here and there.
Brown eyes.
Warm brown eyes.
Very white, very straight teeth.
A hint of a dimple.

Early thirties, maybe.
Looks Native American.
That controlled quiet about him,
a dignity that puts me in mind
of great warriors, chiefs
who race their Appaloosas
over the Oregon Trail,
Nez Perce country.

The day has passed.
Now it is late afternoon.
I sit in dim and quiet
St. Joseph's Church,
on my usual break
from work across the street.
Unread prayer book open on my lap.
Russsssssssssss
slipping around my mind.
I am remembering his shirt,
open at the throat.
Black, wavy hairs
push free where he swallows.
Jesus.



I Used to Ride Clyde
Carla Perry

I used to ride my donkey bareback
Clyde was highly vocal, but slow;
always an entertaining companion
he would tolerate a harness to pull
downed trees out of our woods
but didn't much care for walking uphill
with a passenger
on his back

I used to grow herbs in a greenhouse
using Clyde's waste as nourishment
combined with spring water
and valley sun

I used to love a man
it was he who brought the donkey home
and built the greenhouse
made a life
snorted coke
drove me nuts

I used to ride my donkey bareback
but Clyde must have been sold
or given away long ago
and, without water,
the plants stopped growing
the basil just plain died
that's what happens sometimes
when a man misplaces his mind
then misplaces his life

I used to love a man and scorn him at the same time;
nothing is left but avoidance
I used to grow herbs in a greenhouse;
but the structure burned and the property was auctioned
I used to wake each morning to the sweet brays of a donkey
carry oats in a pail
clean mud-packed hooves.
I used to ride Clyde.



To Idaho
Charles Potts

Idaho is an intransigent verb.
In its infinitive form
To Idaho.

I Idaho.
You Idaho.
He, she or it Idahoes.

In the past perfect tense
I have Idahoed before.

In the future indicative
I will Idaho again.

In the pluperfect subjunctive
No one would ever have been Idahoeing
If they could have thought of anything better to do.


The Words
Carl Hanni

So now she's waking me up
in the middle of the night
wanting to know how
to spell vicissitudes,
and I'm thinking
what a lucky guy I am,
loving a woman who cares
so much about words.

And then she's asking me,
how do you spell decadence
and what is the origin
of the word decay?
So I bought her a dictionary
and she began tearing
out pages and pasting
them on the walls.

So now it's breakfast
and she says, turmoil,
backlash, boycott
insurrection, defiance
renounce, secede
these are good words
they sound like friends,
don't you think you
can judge a person
by the words they choose?

And now I'm saying
laceration, adversity
desolation, distress
breach, martyrdom!
wounded by words
bloodied by words
words like daggers
words like hot coals.

So now I sleep
with her dictionary
trying to find the words,
but all I find
are the missing pages
and teethmarks on my pillow
where the old words
used to lie:
lover, never, forever.


Planning the Future
Dorianne Laux

I never dreamed my daughter would be 16
until the day arrived with a car full of kids
and balloons, take-out Mexican food
and a Baskin Robbins ice cream cake.
A few months later and she has a boyfriend
in a baseball cap and baggy pants, two gold hoop
earrings and a shaved head. They are happy.
After school they do their homework together,
stretched out on her bed, the door open
to the edge of the legal limit.
Every history question finished deserves
a kiss. They're embarrassed by the names
they've invented for each other,
by their tenderness. Toward evening
they watch MTV, mute the volume
during the commercials and plan their future:
junior college, then marriage, then kids;
what they'll take with them: his dog,
her rat. I'm happy for them, even knowing
what will happen: the last gift, the last
kiss, her huddled on her bed, blinded
by her own bright pain. And I can see clearly
the day she'll walk away, keys on a ring,
a suitcase banging her legs.
Then the real work of motherhood will begin,
the job of waking into each morning, trusting.