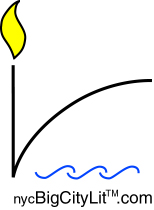 Series Review
Eleanor Wilner and Emily Grosholz
at The Nicholas Roerich Museum (02/19)
Finitude: The Meaning of Real Bullets and the Big Bang
by Nicholas Johnson, Sr. Poetry Ed.
[The Nicholas Roerich Museum was established in 1949 to house the paintings of Nicholas Roerich and to promote his concept of peace through culture. Alongside the poetry reading series curated by Deborah Bowen, the Museum sponsors two poetry awards, one named for it, and another, the Poets' Prize, whose recipient this year, Robert Mezey, will appear on May 16. The Museum also hosts a concert (Sunday afternoons) and lecture series. Eds.]
Surrounded by the paintings of Nicholas Roerich, blues, crimson, mountains, mystical figures with auras: In this pax cultura setting, Marcia Cummins introduced both featured poets.
Despite her laryngitis, Eleanor Wilner read her work in a compelling way, sweeping us along with the rush of her poems. In Reversing the Spell: New and Selected Poems (Copper Canyon Press, 1997), Cummins noted the characteristic way that Wilner reverses the spell of the familiar, in myth, in everyday things. Wilner read us a poem written on demand to cheer up a friend ("Everything's Starting"), combining Spring and the Big Bang: "Tell me everything is starting…, out at the red edge of creation…, an endlessly unfolding flower…," telling phrases that stand out and take us to the poem's conclusion at dawn.
Her wide range, the fullness of her style is immediately evident. From the mythic poem based on the epic Gilgamesh, "Be Careful What You Remember," ("…the gods unaccustomed to walking,"), "The Bee", in which she said she avoids self-pity by using the specious self-pity of animals ("How should the bee make honey then /afraid to look, afraid to look away") and the poem in which she takes on the perspective of the wolf who raised Romulus and Remus ("Forgive me I was wolf and could not help the love that flowed from me to them.")
Her concluding poem, "Up Against It," a tribute to García Lorca, vividly describes the first Fascist victories in the Spanish Civil War:
The wall was white, whitewash lime
that shines in the sun till white is pure pain
searing the eyes.
And the wall was marked,
pocked by a spray of black holes, like nothing
so much as the dots in a child's puzzle, waiting
for a line to make sense of them, to pull from
a scatter of points, a familiar shape.
At the beginning of the bad time
we have come to think of as usual, they stood
a man here, against this wall, simply because
of what he was, something that made it hard
to do what they wanted,
so they thought that
if they killed him first, at the very beginning,
the rest would come easy, his blood like a red
door opening into the future in which the gypsy
wind, capricious, always eluding them,
would be stilled, tied in a sack;
and the everyday which wore them
down into grit under its heels, would disappear
into clouds of power; their boots would be real
leather, the rawhide smell from what they had taken
and hadn't the time to cure.
After the reading, when I apologized for never having heard her read before, she said she doesn't do it often: "You should have heard me read fifteen years ago!"
Emily Grosholz, reading from her fourth collection, The Abacus of Years (David Godine, 2002), "transforms her experience as parent, traveler, and philosopher." Science, math, religion and metaphysics inform her poetry, requiring an occasional gloss, conveniently found in Notes at the end of her book.
Primarily her style is graceful, her delivery crisp, accommodating the familiar, "Robbie Discovers Rain" with the more esoteric, "Variations on Rain, Moonlight, Nightingales and the Incalculable."
Since she turned fifty, Ms. Grosholz confided, she has focused a lot on 'finitude,' a title borrowed from a Wilner essay on Maxine Kumin: "Awake before dawn, William and I sit drowsing," beginning playfully, taking its philosophical turn after "he runs up close to the windows/charmed by the panels of gold…." After singing the matins,
the windows beyond the windows wither away,
and then he returns to my arms asking his questions
in an ancient unknown tongue.
Before fifty, infinity occupied her thoughts. "Trying to Describe the Reals in Cambridge" was composed from her cubicle while writing about a 19th century mathematical concept (Leibniz) and not getting anywhere. Finally, looking out the window she saw children playing rugby. "That was it!" It is useful to know the mathematical background to the poem, but not necessary to appreciate it.
"Real Bullets," which she described as a feminist poem roughly corresponds to Wilner's "Up Against It," but from the vantage of the growing awareness of the child:
You mean our government could make me fight.
You mean they could send me out to a battlefield
to get shot? Send me out in the open where the enemy
guns would really be shooting at me? Real bullets?
The dramatizations of the child's growing awareness function somewhat like Wilner's use of animals to avoid conscious self-pity and sentimentality. Like Wilner too, she has a sophisticated political and cultural awareness that provides subject matter ("Things I Did and Did Not Buy", "Exhibition of Nazi Art and Art Banished by the Nazis") with a reach.
This very special reading series will next feature Karen Swenson, reading from her book A Daughter's Latitude on Tuesday, April 9th, at 7:00 p.m. Reception follows. Admission free.
Eleanor Wilner is the author of Reversing the Spell: New and Selected Poems (Copper Canyon Press, 1997) and of four prior books of poems, a book on visionary imagination and social change, and a new translation of Euripides' Medea. Her work appears in numerous anthologies, including the Norton Anthology of Poetry, 1996. She won a McArthur Foundation Fellowship, and has received grants from the NEA and the Pennsylvania Council on the Arts. She teaches in the MFA Program for Writers, Warren Wilson College.
Emily Grosholz has published four books of poetry, most recently, The Abacus of Years (David Godine, 2001). She also edited Telling the Barn Swallow: Poets on the Poetry of Maxine Kumin (University Press of New England, 1997) and a co-edited W.E.B. Du Bois on Race and Culture (Routledge, 1996) and is preparing a collection of essays on the legacy of Simone de Beauvoir. She is an Advisory Editor for The Hudson Review. She has received grants for her poetry from the Guggenheim and the Ingram Merrill Foundation. Emily Grosholz is Professor of Philosophy and African American Studies and Fellow of the Institute of the Arts and Humanistic Studies at Pennsylvania State University.
(The Nicholas Roerich Museum, 319 W 107th St New York, NY (212) 864-7752, director@roerich.org)