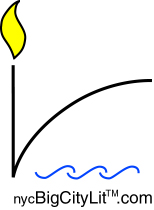 Letters
The editors invite for publication on this page well-written letters or
speakeasy pieces on any topic of concern or interest to the magazine's
readers. Please indicate date, author's name, email and postal address
and phone, even if requesting that the name be withheld. While we
prefer that no text exceed 350 words, the language of composition is
not limited to English, rather, may be any major European language.
(Sorry, we are not equipped to produce other alphabets.) Send to
editors@nycBigCityLit.com


Mr. MacLennan,
Thank you for your interest in the magazine.
For us, the abab pattern in the first two poems quickly wears thin. The aabb in the McPhee works better with the longer line, and is vaguely entertainingly reminiscent of the Ancient Mariner, but many of the lines don't scan and the word transpositions are archaic. If you would like to revisit that one, we will be willing to reread it.
Eds.
In a message dated 2/4/02 4:32:58 PM, davem@coastnet.com writes:

Sorry I'm too lazy to revisit anything. I have absolutely no interest in that sort of thing. I write 'em and I file 'em, and doing on average a poem just about every day of my life I could care less what you think wears thin or that transpositions are archaic; whatever the hell that means. Sorry but I'm just not a poetry snob. Here's today's effort - once again wearing thin on the old abab.
Empty Pages Like Snow
Empty pages like snow,
In a winter graveyard.
With lines buried below
Like headstones uninspired.

Words are written in stone:
But why, if no one reads?
Beneath snow all alone;
Why? A poor writer pleads.

Headstones buried in white,
And left to the ages.
While I'm left here to write
Words melting on pages.

Sincerely

Dave

Mr. MacLennan,
We are duly chastened, and will publish this, along with any other work you wish to send, upon receipt.
Eds.
Hi Kids,
Don't let them fool you. […] Hell if they'll publish me surely there is hope for you! By the way here's my 'Poem du Jour'.
Regards
Mr. Poetry Daily from Victoria, British Columbia
A Stinker's Life
[excerpted, edited, escaped
from the too loosely wrapped folds of The Shipping News West--Eds.]
I think I'll write something naughty,
This genre seems suited to me;
More poetry for the [pottery],
Is all I'm good for you'll agree

[…]

No sir in their towers sitting,
True poets - me - they will disown;
But I tell you I'm not quitting -
I like this my porcelain [Onanie].

etc. …