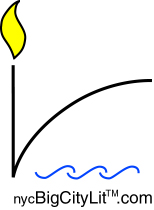 Big City, Little
Philadelphia
One Eleven North Forty-Ninth Street
Victor Schermer
Soon after the founding of our nation, a dedicated group of men built an asylum on a plot of land outside the Philadelphia city limits. There, the insane could receive humane treatment, like the calming psychiatric chair invented by Dr. Rush, or perhaps hot baths, or the soon-to-be-outdated leeches. There was support and concern and lessons to be learned: the so-called "moral therapy," indebted, no doubt, to the spiritual teachings of the day.
In time, the city extended around the place, and a stone wall was constructed to contain the wild ones inside, their thoughts as radical and disturbing as the great books burned under Hitler's regime. Then the new generation of physicians erected a large turret, which gave the place the appearance of a prison.
Slowly, there in the West End, an urban ghetto grew, a place of poverty and strife, surrounding the wall. And inside the wall, wealth accumulated, as the rich and near-rich sent their sick ones to be cured, cured of their disturbing thoughts.
A society developed inside the wall, resembling ancient Greece or Rome. Doctors walked through the endless halls and carpeted rooms discussing diagnoses, theories, deteriorations, remissions, discharges. Patients lived there for one, two, three years, getting worse or better, known, known in their depths and inner deaths by the dead themselves.
Then the money expired. New medicines took the place of costly walls, and doctor after doctor fell in battle, until a man in a black suit came and bought them out.
Greece fell, Rome fell. You noticed the walls crumbling a bit. You noticed the sadness in the doctors' faces. You noticed the absence of mind in place of the crazy mind. You noticed the abacus balls, fingered by the moneyed interests.You noticed that the patients went in and went out.
Some say it was like the South during Reconstruction. I say it was the end of light and dark. I say it was the slow dying of the soul. I say the ghetto is everywhere and nowhere.