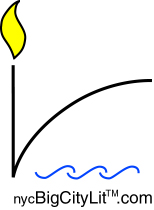 Big City, Little
Jerusalem
Barbers at Damascus Gate
by Valery Oisteanu
In an alley of the Old City, Anoum sets up his barber chair and hangs an old bottle crate on the wall, just as his father did. Thick nails hold a mirror and a big wash pan from a local whorehouse. Customers pay one shekel for a shave, three for a trim.
An unending line of barbers who share nothing, they use instruments from the 40's, brush and soap for foam. The smell of cheap perfume and smoke covers the narrow street. Some older guys smoke water pipes. Young boys rush to and fro carrying hot tea and coffee.
Gold coins stare from shop windows, boxes inlaid with mother-of-pearl, and silver jewelry. The domes and towers leave a very short shadow. It's already noon. I buy ten pitas, and a big bottle of Coke. Baklava costs one shekel; a 2000-year-old oil lamp costs two shekels. German tourists stop by and take pictures of Moslem architecture and bas-reliefs from the time of Suleiman Pasha.
I take pictures of an old coat-of-arms belonging to an ancient Jewish family. Carved in stone, it is a wine cup. Beside it, an old barber handles his blade, unperturbed as around him Intifada youngsters chant slogans and fight with each other. Veiled women, shocked by the sight of my naked shoulders, disappear quickly behind metal doors. The doors have holes drilled in them, through which a pair of eyes watches us carefully.
One entrance has pictures on it of the Dome of Rock and of Mecca. That means a hagi, or Moslem priest, lives there. The Dome of Rock is closed to non-Moslems. Inside, there is a famous rock disputed by all three major religions: Abraham nearly sacrificed his son Isaac upon this rock, Jesus meditated upon it, and Mohammed ascended to heaven leaving a foot imprint on it.
Coming out of the Moslem quarter, we enter the courtyard of the Church of the Holy Sepulcher. This one has three famous rocks: one that was used for washing the dead Christ after he was taken down from the cross, the rock of the crucifixion, and the one that sealed his tomb. Several old women kiss the rocks and spread their cheap crosses on them, so that they may become holy by touching them.
The high priest is accompanied by the Muslim proprietor who holds the key to the church. Soon after, they closed the doors for the first time in 800 years to protest the purchase by Jewish settlers of a building close by.
We leave the church and walk slowly to the Damascus Gate. The rocks are hot. The day is over. Anoum walks to the nearby basement of an antique rug merchant and steps into the dimly lit room where several young family members were weaving at their kilim looms. Anoum has been having sexual fantasies about the young girl and talks to her in sign language as they sit on mattresses spread out on the floor. He shows her dirty postcards and she giggles.
A barber by day and an Intifada fighter for hire by night, Anoum trains by stealing settlers' pets, shaving off their hair and then releasing them. But tonight he decides to hang out by the Fatma Café. Soon, several exotic accents surround the waterpipe. The casual conversation of the locals turns into shouting. The hot tea arrives and the muezzin start calling for evening prayer from a nearby minaret. Everyone gets up and leaves in different directions. Goodbye, Damascus Gate. Salam Aleicum. Aleicum Salam.